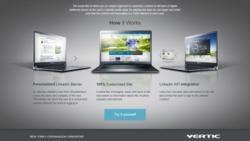 Customize content for our clients' audiences and create greater relevance in their message
New York City, NY (PRWEB) September 17, 2012
Vertic, a leading digital agency, has announced today the launch of a new technology for campaigns based on the LinkedIn API. The technology is showcased within their own campaign, found here.
Having been both recognized by LinkedIn and awarded by prominent third party awards earlier this year for the Energy Transparency campaign, for the client Vestas – a large-scale program that leveraged the LinkedIn platform to target specific individuals and companies for the wind turbine manufacturer -, the agency has now begun utilizing the platform's API for themselves.
Speaking on behalf of Vertic, Sebastian Jespersen, CEO, said "In terms of quality of audience segmentation, LinkedIn is recognized as the global leader. The usage of the API technology is consistent with our strategy to enhance our delivery of capabilities by deepening our understanding in the digital marketing space of such platforms. This strengthens the ability for Vertic to customize content for our clients' audiences and create greater relevance in their message."
LinkedIn is recognized as the largest professional business network online, with over 175 million members. "As a digital agency, we need to take our own medicine," continues Jespersen. "The strategy of one-to-one personalized marketing and messaging has been around for many years; however, only now have the platforms become available that enable this strategy to take shape. We have seen the technology work well for our clients and so it is appropriate that we are using it for ourselves. A digital agency is expected to continually push the boundaries of a technology's usage and we wish to achieve as deep an understanding of the LinkedIn APIs as possible. We expect to see a notable change in user behavior in our campaign and ultimately higher conversion of our own prospect customers contacting us to learn more."
# # #
About Vertic
Vertic is a global independent digital ad agency. Our award-winning solutions are based on our ability to blend the core competencies of strategy, story-telling, creativity, interaction-design, and in-depth understanding of content creation, in the pursuit of tangible business results.
Vertic's mission is to help industry leaders apply interactive solutions to build their brands and create great customer experiences across the entire digital channel.
Founded in 2002, we are represented in Copenhagen, New York and Singapore. Our passion is creating 360 multi-channel solutions that generate demand for our client's brand.