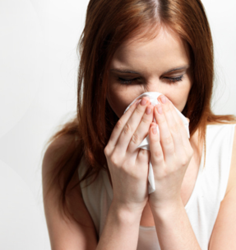 Certain all natural supplements are designed to help the body build up its own natural anti-histamines.
Herndon, VA (PRWEB) September 14, 2012
Pure Matters, a retailer of premium health and wellness products, is warning allergy suffers to get on top of fall allergy season as it gets underway and offers five steps to relieving the discomfort of seasonal allergies.
More than thirty-five million Americans endure burning, itchy eyes, sneezing, sniffles, and chapped nostrils caused by allergic rhinitis or hay fever, according to the American Academy of Allergy, Asthma and Immunology (AAAAI). Fall allergies are generally caused by molds, weeds, trees, or grasses.
Mold, weeds, trees and grasses
Molds, which produce airborne spores, are common during autumn. Outdoor molds are plentiful in damp gutters, rotten wood, and fallen leaves. Damp fall weather also encourages mold growth indoors in bathrooms, kitchens, basements, carpets, houseplants, refrigerators, garbage cans, books, and upholstered furniture. Ragweed is the most common cause of late summer and fall hay fever symptoms in the United States. This yellow-flowering weed blooms from mid-August to the first frost. It's most prevalent throughout the Northeast and Midwest, but almost every part of the United States has some ragweed pollen. Most trees and grasses cause allergy symptoms in the spring, but those that pollinate in the fall, such as cedar, elm, Chinese elm, September elm and eucalyptus, cause allergic reactions in autumn. Fall allergenic grasses include pampas grass and wild mustard.
Beating the discomfort of Fall Allergies
Koren Barwis, Pure Matters' Health and Wellness Coach, has five suggestions that cover everything from yard work to mobile apps to help allergy sufferers keep their sneezing at bay.
"I'm a fall allergy sufferer, so I know how hard it is to get hit with cold-like symptoms while your chasing the last days of summer," noted Barwis. "There are a number of steps allergy sufferers can take to steer clear of triggers and reduce their exposure to known allergens. And there are all natural supplements that are designed to help the body build up its own natural anti-histamines."
Barwis suggests allergy sufferers take the following steps:
1) Know the pollen count in your area. Listen to the morning news – or better yet – check in at pollen.com to get an up-to-date scientific readout on the pollen conditions by area. New mobile apps from pollen.com and the AAAAI keep pollen count data one button away.
2) Use caution when working in the yard. There is so much to do in the yard in the fall, and yet for fall allergy sufferers, this can be like walking into a histamine nightmare. Wear a facemask when mowing the lawn or raking leaves (or have someone else do it). Cut back trees and brush that overhang your house and remove leaves, clippings, and compost from the yard.
3) Create a routine. Pollen can cling to your skin, clothes, shoes and especially hair. It's a good idea to leave shoes at the door, wash your hands when arriving home, change into fresh clothes and keep laundry in a separate room. Also, wash your hair or your child's hair before bed.
4) Choose the right time of day for outdoor activities. Delay outdoor activities until after midmorning, when pollen counts are highest. Also, try to avoid spending long periods of time outside on dry, windy days, when pollen is more likely to fill the air. Allergy sufferers will likely experience fewer symptoms on rainy, cloudy, and windless days.
5) Keep windows closed. Keep windows closed to prevent triggers from entering your home and car. It's often helpful to let the air conditioning run for a minute or two with the windows open after first turning it on, to eliminate any mold buildup in the system.
Treatment
If avoiding triggers doesn't help relieve allergy symptoms, reach out to a health care provider about treatment. A variety of medications are available to treat allergies, including antihistamines and decongestants, either alone or in combination. Supplements, like Pure Matters' Allergy Formula for Immunity, work differently than antihistamines, utilizing natural ingredients like nettle leaf, bitter orange extract, vitamin C and garlic to help promote a controlled immune response. In clinical trials, garlic has also been shown to help ease the symptoms of the common cold.
"Whatever you take, I recommend people start treatment at the first sign of symptoms, if not even earlier, and continue with their regimen until the mold, spore and pollen counts go down," Barwis added. "Timing is also important when it comes to making sure you don't under- or over-medicate and ensuring that vitamin supplements have time to provide the benefits they're designed to yield. Some antihistamines need time to get in your system and can prevent flare-ups in the first place. Many vitamins, including the allergy formula, really start to yield results for people after several days. Consistency matters. Stick with it."
About Pure Matters
Pure Matters is a health and wellness retailer, providing wholesome, natural vitamins, minerals and herbal supplements. Dedicated to quality and efficacy, Pure Matters relies on rigorous testing, quality assurance procedures, as well as over a century of pharmaceutical heritage. Pure Matters puts the health of customers first and foremost, offering pure-balanced solutions proven to enhance quality of life.