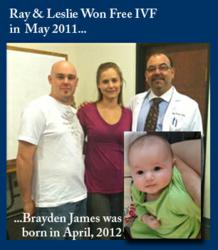 Since many deserving couples don't have the means to pay for treatment out of pocket, we are happy to be able to donate treatment to a number of those couples.
Las Vegas, NV (PRWEB) September 14, 2012
Sher Fertility Institute announced today that it will be donating its 30th free In Vitro Fertilization (IVF) treatment package at a fertility education seminar on Tuesday, October 2nd. The donation is part of a continuing initiative termed the "Giving Back" program that provides free or discounted fertility treatment to couples/individuals who have a medical need for it. The seminar will be held at Spring Valley Hospital and will begin at 6:00 PM.
The Giving Back initiative was officially established in 2009, but Sher Fertility Institute doctors have been donating their time and services through various charitable programs to deserving couples for more than 20 years. The donated IVF treatments are just one component of the Sher Institute "Giving Back" Program, which includes the following components:

Donation of 29 free IVF treatment packages to couples over the past three years in Dallas, St. Louis, New Jersey, Peoria and Las Vegas
Offering free egg freezing for patients facing cancer treatment
Discounted treatment packages for military personnel, teachers, and "first responders"
Video and essay contests hosted through social media channels in which contestants share their stories for a chance to win IVF treatment
Participation in free treatment programs with third party patient advocacy groups
At this seminar, Dr. Geoffrey Sher, founder and Executive Medical Director of Sher Fertility Institute, will lead a presentation on infertility causes, diagnosis and treatment options, followed by a question/answer session where he will take questions from audience members.
Ray and Leslie Carlisle were recipients of free treatment in 2011. After struggling for two years to conceive, but without the means to pay for IVF, they attended a Sher Fertility seminar in March of 2011. They were drawn as the winners of that night's IVF donation and they began their treatment in the Summer of 2011. The treatment was successful and Leslie gave birth to a baby boy in April of this year. Leslie was on hand (eight-plus months pregnant) at Sher Fertility Institute's March 2012 seminar to draw the winning ticket for that night's IVF treatment. The winners were Scott and Ana Nicolas, who underwent their donated IVF treatment this month and just received the exciting news that Ana is pregnant.
Sher Institute has long been a proponent of wider access to fertility treatment for couples struggling to conceive. The Institute donates its services on a regular basis to patients without the financial means to access treatment, which can run into the tens of thousands of dollars. The purpose of the seminar is to educate people as to their options for treatment and empower them to make the best decisions for their particular situation.
"Everyone deserves to have access to services that allow them to achieve the basic dream of having a family," said Dr. Sher, "One component of this is the knowledge and empowerment to take charge of their own treatment, which we try to provide at these seminars. The other component is the financial aspect. Since many deserving couples don't have the means to pay for treatment out of pocket, we are happy to be able to donate treatment to a number of those couples."
Fertility treatment has been in the media spotlight recently with celebrities like Khloe Kardashian, Celine Dion and Giuliana Rancic struggling with infertility. But while stars may not flinch at the $15,000+ price tag of IVF treatment, the cost puts it beyond the reach of most average couples. It was these couples that the Sher Fertility Institute had in mind when they created the Giving Back initiative.
For more information on the seminar, please visit the Sher Fertility Institute website at http://www.haveababy.com.
About the Sher Fertility Institute
The Sher Fertility Institute is a national network of fertility clinics focused on leading-edge medicine, ongoing research, and compassionate, personalized care. Founder Geoffrey Sher, MD opened the first private In Vitro Fertilization (IVF) clinic in the United States. Dr. Sher and his colleagues have been influential in the development of dozens of important breakthroughs in the field of reproductive medicine. Over the last thirty years, Dr. Sher and the Sher Fertility Institute have donated IVF treatments to hundreds of couples from all over the United States.