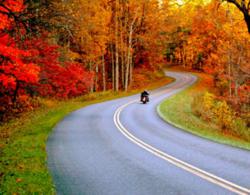 The guys at Butler personally ride every road on their maps, and rate the twistiest, wildest and most scenic sections as "G1" roads.
Eagle, CO (PRWEB) September 14, 2012
As if the changing colors and end to summer's stifling temperatures weren't already enough to tempt motorcycle riders into a weekend road trip, Butler Motorcycle Maps wants to give riders a few more excuses to get it in gear.
The guys at Butler Motorcycle Maps personally ride every road on their maps, and rate the twistiest, wildest and most scenic sections as "G1" roads. Here are five ideas for the coming weekends that will get riders into the swing of fall, and onto some of the best G1 motorcycle roads in the west.
1. 26th Annual California Avocado Festival – Carpinteria, CA – October 5th-7th
This eco-friendly festival features over 60 live bands, a "Best Guacamole" contest and two of the best rides in the area on either side of town. Be sure to check out Maricopa Highway (CA-33) on the eastern side, and East Camino Cielo Road (FS-5N12) to the west.
2. Intermountain Concours D'Elegance – Lehi, UT – September 21st – 23rd
American classics, British racers and exotic Italians will be among the motorhead eye candy in attendance. The Sunday concours rolls from Lehi to Sundance Resort. For a great G1 motorcycle ride, aim toward Cedar Hills, and pick up Alpine Loop Scenic Byway (UT-92) to Mt. Timpanogos.
3. Horsefly Brewing Company – Montrose, CO – Every Saturday until November at 7PM
Six craft brews, great jam bands, and the infamous Black Canyon of the Gunnison; what more could a rider ask for? From Montrose, take US-50 east and turn north onto CO-347. Once in the park, enjoy East Portal Road, one of the most exhilarating G1s that Colorado has to offer.
4. Serpents in the Garden at the LA County Arboretum – Arcadia, CA – October 6th and 7th
Whether your passion is gears or greenery, get your fix of both at this unique tribute to Carroll Shelby's immortal Shelby Cobra. Butler suggests a ride north out of town, and east on Angeles Crest National Scenic Byway (CA-2). Ride to your heart's content all the way to Wrightwood.
5. Outboard Hydroplane Regatta – Pearrygin Lake State Park, WA – October 5th – 7th
For all those dual-sport riders itching to get a little dirty, Butler offers a special treat: a taste of the renowned Washington Backcountry Discovery Route (BDR). After watching the races on Pearrygin Lake, ride east on WA-20 and turn left onto the unpaved Loup Loup Canyon Road to Conconully. To really understand the BDR, keep climbing north on FR-38 and FR-3820 to Lone Frank Pass, a roughly 4,000-foot ascent.
Butler Motorcycle Maps produces waterproof, road maps that help motorcycle riders find the best scenic motorcycle routes. Color coded information about the drama, safety and overall riding experience of a given road, provides riders an alternative to using the shortest distance or fastest time calculated by most GPS devices. Butler Maps are used by over 50,000 riders and are available in retail outlets throughout the country. Butler Maps is based in Eagle, CO. For more information please visit http://www.butlermaps.com or call (888) 479-6053