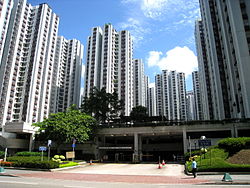 It is uncommon for a US firm to supply Chinese products to a Hong Kong construction project
Boise, Idaho (PRWEB) September 17, 2012
LightingShowroom.com has been selected to supply the lighting package for a remodel project at the Hoi Sing Mansion in Hong Kong. Customer care manager Anita Turner said "We work with clients around the world but this is our first project in Hong Kong. It is unusual in that you wouldn't normally expect a US firm to be selling Chinese products back to Hong Kong. The client had specific design needs because of the local building conditions so we will be bringing the Chinese products here, modifying them to meet the customer requirements and shipping them back." She continued, "Except for the final destination this is a typical project. Our customers are looking for a supplier they can have confidence in so the detail of where a product comes from doesn't really matter to them."
Hoi Sing is part of the Shing Fei phase of the Taikoo Shing development. Taikoo Shing has been a significant part of Hong Kong's housing development since the 1970's. The entire Taikoo Shing project covers 3.5 hectares (8.5 acres), and consist of 61 residential towers, with a total of 12,698 apartment flats that ranges anywhere between 585 square feet (54.3 m2) to 1,237 square feet (114.9 m2). More than 60,000 people live in Taikoo Shing, a moderately concentrated area by Hong Kong standards. Apartment flats in Taikoo Shing are popular amongst buyers and speculators and have been a general indicator of the Hong Kong housing market health in general. Taikoo Shing is also a sought-after place to live for the Japanese and Korean expatriate communities in Hong Kong, most of whom work for multinational corporations based in Hong Kong and it is currently being upgraded with modern products.
Wickowski said, "LightingShowroom is one of the top 5 online retailers of lighting products in the US and has been serving a growing domestic and international clientele. We represent major international manufacturers which allows us to focus on meeting the customer's needs and supporting high end domestic and international projects with confidence."
Wickowski explained, "The foundation of our business is customer care. We offer good value in our pricing, but attention to detail, meeting the customer needs, and working hard to anticipate and prevent problems is really what we are about. Value is the combination of quality products, fair pricing, and best in class customer care. Those are the things we work on all the time. We have found that our focus on the entire customer experience brings us loyal repeat customers and great word of mouth support.