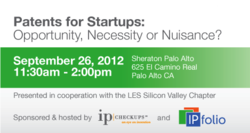 "Startups need to understand who owns the underlying technology in their space."
- Matthew Rappaport, Co-Founder, IP Checkups

"We want to help these companies develop lean IP management strategies."
- Rupert Mayer, CEO, IPfolio
Berkeley, CA (PRWEB) September 14, 2012
On September 26, 2012 IP Checkups and IPfolio will present a panel of industry experts to demystify the brave new patent world for startups. The event will be held at the Sheraton Palo Alto from 11:30am- 2:00pm and will feature a networking luncheon followed by a lively debate on the pros and cons of pursuing different patent strategies.
"Especially in the wake of the America Invents Act, startups have to become more attuned to competitors' patent filings and patent holdings. Small companies can only implement effective business development and R&D strategies by understanding who owns the underlying technology in their space," said Matthew Rappaport, Co-Founder of IP Checkups and a panelist for the event.
"Given their limitations on time and budget, startups, university spinoffs and SMEs all face tough choices when it comes to IP asset management. We want to help these companies develop lean IP management strategies to lower the escalating costs of filing patents," said Rupert Mayer, CEO of IPfolio and moderator for the event.
This event is hosted in co-operation with the Licensing Executive Society's (LES) Silicon Valley Chapter. Admission is $45 and includes lunch. For full registration details and a list of speakers, please check out the LES event website.
About IP Checkups
IP Checkups was founded in 2004 as a boutique patent analytics firm. The company offers custom patent portfolio and technology analysis to corporate clients, investors, research institutions, and universities. IP Checkups combines custom intellectual asset management and patent search services with powerful web-based software solutions enabling companies to identify, analyze, manage, monitor and update patent information relevant to their technology and markets. Check out the CleanTech PatentEdge blog for latest patent publications, industry news, and cleantech events.
About IPfolio
Drawing on over 15 years experience in software development and Intellectual Property (IP) management, IPfolio offers a fresh new approach to IP management. A modern, cloud-based, easy to use software, IPfolio is IP Management simplified and more visual. It enables you to effortlessly organize and strategically manage every asset within your portfolio through each lifecycle stage. Using a highly automated workflow, IPfolio increases administrative efficiency while enabling organization-wide collaboration and smarter IP decision-making. For more information, visit http://www.ipfolio.com.