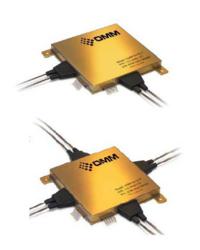 San Diego, California (PRWEB) September 18, 2012
CrossFiber Inc. disclosed that the Company now owns the entire patent portfolio, invention and lab notebooks, manufacturing knowhow and 2D MEMS switch inventory of OMM. OMM was the inventor and pioneering manufacturer of the world's first Telcordia-qualified MEMS-based photonic switch modules.
For data center owner/operators and fiber optic telco networks, CrossFiber manufactures photonic switches which offer the best combination of performance and cost. CrossFiber LiteSwitch(TM) all-optical switches feature 3D MEMS micro-mirror technology originally started at OMM, combined with beam control innovations developed and licensed by Trex --which incubated CrossFiber-- and CrossFiber's own innovations in beam control, switch architecture, and precision optics. With the expansion of opportunities in data centers and telco networks, CrossFiber has now been fully spun off as an independent company.
"We now own an even stronger IP portfolio and a deeper base of knowhow," said Hus Tigli, CrossFiber's President & CEO, who also served as the CEO of OMM. "Our core technologies, combined with our innovations in automated manufacturing and testing of precision parts enable us to serve customers demanding performance, economical solutions and volume manufacturing."
About CrossFiber
CrossFiber develops and manufactures breakthrough photonic switches, based on proprietary technologies which combine 3D MEMS micro-mirrors on silicon, non-invasive beam steering (NIBS), and custom ASICs. CrossFiber's unique combination of performance and cost makes LiteSwitch™ systems the most suitable across all major applications in data centers and telco fiber optic switching. More information can be found at http://www.crossfiber.com.