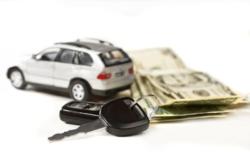 The average daily rate for a weekend car rental at AllCar is less than $55. Some of the larger chain operations charge double this.
Brooklyn, NY (PRWEB) September 27, 2012
AllCar Rent-A-Car announced their Price Promise program this morning, in response to the recent acquisition of Dollar Thrifty Automotive Group by international car rental behemoth Hertz. Following the $2.3 billion dollar merger, three companies now control roughly 95 percent of the car rental industry. This monopoly is bound to have an impact on rental rates, service quality and rental selection. Thankfully, AllCar's Price Promise program guarantees travelers the most affordable rate.
The Price Promise program includes:

A minimum 10% price drop on AllCar's rental rates. Prices are now in effect and were calculated off of the advertised rates of all national companies operating in the New York City area.
A Price Match guarantee. If ever a customer receives a lower price from a competitor in the same area as one of our locations, we will match the price. Please contact your local AllCar branch for more information about our Price Match guarantee.
When it comes down to service and affordability, independent car rental agencies are able to offer the kind of individualized service that big name companies simply cannot. AllCar Rent-A-Car prides itself on providing New York car rental customers with personalized service, exceptional selection, and competitive pricing.
"Large car rental companies often try to control the market by dictating prices that are well above fair value," explains Nathan Isherwood, Director of Marketing at AllCar Rent-A-Car. This is especially true for high rental periods, including weekend and holiday seasons. "The average daily rate for a weekend car rental at AllCar is less than $55. Some of the larger chain operations charge double this."
"Bigger isn't always better," says Isherwood. "This is especially true in the car rental industry. Smaller companies are better equipped to provide travelers with the highest quality of service. At AllCar, we'll do everything possible to accommodate the needs of our clients."
This commitment to quality includes offering a complete selection of NYC car rental vehicles. Whether you're looking for a sporty Ford Mustang convertible rental or an economical option, like the Ford Focus, you'll find exactly what you need at AllCar. AllCar also offers one of the Big Apple's largest extended van rentals, including 15 passenger and cargo van options.
While selection is important, it's AllCar's customer service that truly sets the company apart from larger corporate rental giants. AllCar's eleven New York City locations are dedicated to providing rental customers with attentive, knowledgeable and accommodating customer service. At AllCar, we understand that no two car rental customers are alike. As such, AllCar aims to provide every customer with the attention they need and deserve.
For more information on AllCar's commitment to customer service and the company's impressive selection of rental vehicles, please visit the agency's official website at http://www.allcarrentacar.com. Don't settle for subpar service from one of the big guys when you can experience friendly, prompt and professional assistance at one of AllCar's convenient New York City locations.
About AllCar Rent-A-Car
AllCar Rent-A-Car is New York City's premiere rental company. With 12 locations throughout the five boroughs, AllCar is focused on providing the highest quality car rental experience in New York. Book your rental online at http://www.allcarrentacar.com