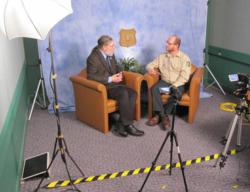 We want to hold the audiences' attention
Juneau, Alaska (PRWEB) September 14, 2012
Want to know about economic transition in Southeast Alaska, or are you more interested in information about the wild animals on Alaska's two national forests? You are bound to find something interesting about the Tongass or Chugach national forests if you tune in to the new podcast series, Forest Talk, on the Forest Service Alaska Region web site beginning today.
Regional Director of Public Affairs Kevin McIver hosts the program where subject matter runs the gamut from candid interviews with the Region's leadership to fun facts about interesting wildlife or conservation measures from wildlife biologists.
"We came up with Forest Talk to reach our audience with something other than pictures and news releases," said McIver. "We have several shows in the can and several more in production."
Most of the video and audio podcasts will run from five to seven minutes according to production coordinator Teresa Haugh. "Any sessions that are longer will be separated into two segments. We want to hold the audiences' attention," said Haugh.
The Region's public affairs team is always looking for new, interesting podcast ideas and they encourage viewers and listeners to submit programming ideas to their web contact site.
.