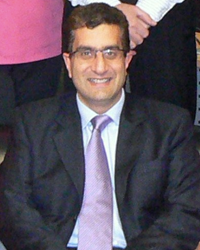 I support the GDC in its view that the carrying out of dentistry by individuals not registered with them is a criminal offence
Middleton, Manchester (PRWEB) September 14, 2012
Following recent advice and guidance from the General Dental Council, leading Manchester dentist Tariq Drabu, the owner of Langley Dental Practice in Middleton, Manchester has today warned about the dangers of illegal tooth whitening being carried out by non-dental registrants.
Speaking out about his concerns Tariq Drabu said "these are difficult economic times and many people are looking at ways of maximising or supplementing their income. If you search the internet you can find lots of companies offering franchise opportunities for tooth whitening and on the surface this can seem like a perfectly legitimate way of making extra money."
Tariq Drabu went on to say "however the General Dental Council (GDC), the organisation which regulates dental professionals and is responsible for protecting the UK public clearly states that applying materials to teeth and carrying out procedures that are supposed to improve the appearance of teeth and also giving clinical advice about these matters is actually the practice of dentistry. The GDC state that this should only be undertaken by dentists or dental hygienists/therapists working to a dentist's prescription. I support the GDC in its view that the carrying out of dentistry by individuals not registered with them is a criminal offence." Tariq Drabu also pointed out that the GDC has already prosecuted two cases in the criminal courts over the past 12 months and more are in the pipeline.
Tariq Drabu and his team at Langley Dental Practice, Middleton, Manchester have been offering tooth whitening for over 10 years with excellent results. Tariq hit out at the misleading advertising tactics that some of the franchising tooth whitening companies are using to scare patients away from dental practices. He said "The so-called cosmetic teeth whitening companies try and put forward the myth of greedy dentists ripping off the public claiming that we want to charge anything between £350 and £700 for whitening. Here at Langley Dental Practice we start our whitening prices at just £199 for both upper and lower teeth and this includes a full detailed consultation with an experienced British educated, qualified and trained dentist, somebody who is skilled in the art and science of looking after your teeth - not a "cosmetic technician" or "beauty therapist" or even worse somebody working out of the back of a van who comes to your home. We work to the best standards in a safe, controlled and predictable manner, always putting the patients' interests first and using the most up to date materials and highest standards of cross infection control."
Tariq Drabu and his team at Langley Dental Practice have come up with a list of serious and significant questions to ask any would be provider of tooth whitening. Aside from the usual questions about qualifications and experience he suggests the following:
1. What are your standards of cross infection control - do you autoclave and sterilise the instruments that you put in patients mouths (like dentists are obliged to do) to government regulated standards?
2. Please can you show me your cross infection facilities including autoclave and washer disinfector?
3. How do you dispose of your clinical waste? (i.e. the stuff that actually goes in patients' mouths). If you just throw it into the rubbish bin did you know that this is illegal?
4. If you advertise "laser tooth whitening" are you compliant with "Essential Standards for Class 3b and Class 4 Lasers" as advised by the Independent Healthcare Advisory Service.....or are you just really using a blue light and not a laser?
Tariq Drabu said "these are serious and important questions to ask. People are putting their bodies and their health on the line. If the answers to the first three questions draw a blank stare or are inadequate then you are having treatment done from somebody who is putting your health at risk. As regards question 4 I've yet to come across anybody who actually uses a laser to whiten teeth so this is simply false advertising."
Tariq Drabu concluded by saying "we all want to have a great smile but tooth whitening should not be something that just boils down to cost. There are certain basic quality standards that have to be met. At Langley Dental Practice we will continue to provide a safe, value for money and high quality tooth whitening service that meets patients' needs and gets great results."