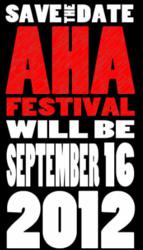 Santa Fe, New Mexico (PRWEB) September 13, 2012
On September 16, 2012, the After Hours Alliance will once again invite dozens of Santa Fe artists and musicians to showcase their work in the Railyard. With a focus on the "progressive arts," the AHA Festival aims to highlight visual, performing and literary artists as well as musical acts that are stretching the boundaries of what constitutes commercially successful art in Santa Fe. Last year's festival drew a crowd of over 2,000 to the Railyard for food, dancing, and fun in the sun. Visitors and locals are invited to join in this free celebration of Santa Fe's creative community. Additionally part and parcel to this great event, the Santa Fe Reporter, a weekly newspaper publication in Santa Fe, has teamed up with local promoters to build 12 days of music, arts, and cultural events around the AHA Fest for the first annual Reporter Arts Festival from Sept. 12 to Sept 23. The AHA Festival is featured on SantaFe.com's event calendar.
The 2012 AHA Fest will feature art and performances by 12 Tons Of Letterpress, Akira Watts, Andrew Kastner, Anthony Leon & The Chain, As In We, At 7000 Films, Benji Geary, Brandon Soder, Cannupa Hanska, Chris Collins, Christopher Johnson, Cyrus McCray, Dani Katz, Deirdre Morris, Dubstep Puppet Show, Emilee Lord, Esteban Bojorquez, Flame, Multimedia Arts Collective, Flying Wall Studios, GoGoSnapRadio, iNK oN pAPER, Joanne Dwyer, Karrie Hopper, Kat Dison & Julia Cizeski, Keyboard, Lara Nickel and Brianna Fristoe, Linda Wiener, Luke Dorman, Marimba Fantasticos, Molly Wagoner, Nick DePascal, Nikesha Breeze, Pitch and Bark, PumpTrolley Art Toy Atelier, Robin D Williams, Ruchell Alexander, Santa Fe Community College, Santa Fe Disco Brawlers, Scuba, Shadow Messengers, T.C. McGee, The Free Range Ramblers, The Sticky!, Tim Jag, Todd Ryan White, Treemotel, and We Drew Lightning.
Plus the AHA Festival 2012 will feature showcase stages and special environments curated by Team Everything, High Mayhem, Meow Wolf, Squirrel Mart, Axle Contemporary, Meow Wolf Publishing and Warehouse 21.
About the After Hours Alliance:
The After Hours Alliance was founded in 2010 to identify creative ways that music and arts promoters could work together to elevate Santa Fe's music scene.
AHA operates under the following core beliefs:

A thriving after hours or nightlife scene is critical to the health and vibrancy of the city of Santa Fe. Promoters of after-hours music and arts events in Santa Fe do not often earn large profits. Rather, they are working primarily to manifest the change they'd like to see in their community.
The presence of all-ages venues is critical to a thriving scene. A lack of all-ages venues not only cripples the viability of music events, but also excludes people under 21 from events that they find culturally significant.
People have a responsibility to consume alcohol safely. While drunk driving is a problem, after-hours arts and music programming helps to keep our nightlife more about culture and less about consumption.
AHA was founded in response to data collected from MIX. To learn more about MIX, visit mixsantafe.com
About SantaFe.com:
SantaFe.com provides locals and visitors to Santa Fe alike the most current interactive platform for events, music, arts, business, dining and lifestyle. SantaFe.com is a division of Hutton Broadcasting, located at 2502 C. Camino Entrada, Santa Fe, NM 87507
Contact Information:
Scott Hutton
SantaFe.com / Hutton Broadcasting
http://www.santafe.com
(505) 471-1067 (Media inquiries only, please)