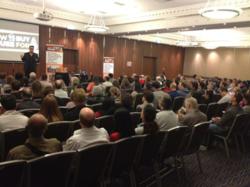 I'll be bringing loads of non-conventional strategies that everyone can use. My students are a testament to what these strategies can do for them, and I am confident that it will be the same for Perth
(PRWEB) September 14, 2012
The subdued growth in home values caused by the 2008 GFC has made people more focused on saving rather than spending, which is why fewer people are buying houses and capital gains are slowing according to Australian property expert Rick Otton.
According to the latest stats of RP Data, Perth's average annual growth was at -0.9% and Rick Otton is certain that this Saturday's one-day seminar will open up new opportunities for property investment in the city and help push their economy.
"People have become more cautious and reserved when it comes to investing, and it doesn't help the economy. I'm sure this has happened to other cities also. What Perth needs is a fresh financial outlook, coupled with innovative strategies that will rock their slumbering economy. And my seminar will do just that," Rick Otton said.
For many years, Rick Otton has been teaching property investment strategies for Aussies and has recently launched his property book earlier this year. He is known for his revolutionary property strategies that do not require bank loans or huge deposit, which can be applied by anyone regardless of his or her financial status.
Earlier this year, Mr. Otton has completed his series of live property seminars designed to complement his real estate book. Held in different venues in the East Coast, the seminars provided an in-depth discussion of the property investing techniques he outlined in the book.
Sheree Becker, one of Mr. Otton's successful students, shared how embracing strategies has changed his life. "I've been mentored by Rick for a few years now, and I still learn new things every time I talk to him. I love the freedom and the money I get from this business. It buys me lots of holidays. I take a solid two to three months off every year. Before I started doing this I was making a good income in IT, but I'm making four or five times that now. My partner and I have our dream farm now, and it's only been three years since I started working with Rick," she said.
This time, Rick Otton brings to Perth his property investing system that he has developed to help property investors turn an expensive negatively-geared property into a source of positive cash flow overnight.
"This is the first time I'm holding an event in Western Australia and I'll be bringing loads of non-conventional strategies that everyone can use. My students are a testament to what these strategies can do for them, and I am confident that it will be the same for Perth", Rick Otton said.
Get the details for Rick's one-day training event at HowToBuyAHouseForADollar.Com/Register.
About Rick Otton
For more than 20 years, Rick Otton has been identifying undervalued assets in the real estate market, snatching them up and selling them to build wealth. Otton is the founder and CEO of We Buy Houses, an innovative property firm that has been successfully employing his strategies in the U.S., U.K., Australia and New Zealand.
Otton formulated his strategy in the early 90s and within his first year of real estate investing acquired a portfolio of more than 75 properties. Since then, Otton has made millions in the real estate market, generating huge profits with little risk to his own capital.
Today, Otton is teaching Aussies how to enjoy the same success he has had, buying and selling residential real estate without the debt, risk and reliance on bankers that plague many conventional real estate investors.
Otton has been featured on a variety of Australian TV shows, including an ABC documentary, Today Tonight, A Current Affair and Insight. In 2007, Otton was featured on Channel 9's Hot Property, and gave away a home.
In addition to his television appearances, Otton has also been profiled in publications such as Australian Property Investor, Lifestyle Trader and Your Property Network, among others. You can learn more about Otton and his innovative investment strategies by visiting http://www.rickotton.com.