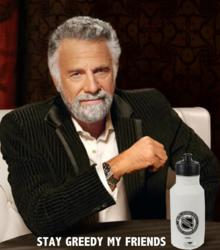 No More Merch
Calgary, AB (PRWEB) September 14, 2012
The NHL Lockout Song:
"Here we go again now Donald and Gary
I've been worried about a lockout since Corey Perry
And Ovechkin didn't suck
And Tim Thomas wasn't a wingnut"
"We love the game. Not so much the business," says Arun Lakra. "Two solipsistic parties who can't find a way to carve up the billions. So who suffers? The loyal fans. And my two little kids."
As our song says…
"We're as scared as a cabbie for Kane
We're as fragile as Crosby's brain
We're as truculent as Brian Burke with Kevin Lowe"
We can threaten to boycott future games. But they know we're bluffing. We love the game too much. We will come back. We know it. They know it.
Perhaps there is a better way to make our point… in a language they just might understand.
Written by Arun Lakra to the tune of Jason Mraz's "I'm Yours," and sung by Juno-nominated recording artist Raghav, "The Lockout Song" says…
"I have seen this all before and I won't take it anymore
If you go and lock the door then I won't wear your merch no more"
Enough is enough. It's time to take a stand. No more jerseys. No hats. No bobbleheads. No yo-yo's. No toilet seat covers.
No More Merch… until 2013-14.
Thank you for having a look.
Contact: Arun Lakra
arunlakra(at)aol(dot)com
http://www.arunlakra.com
(403) 630-6996