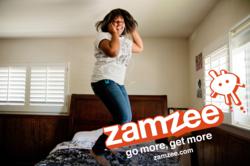 Zamzee's mission is to use the power of technology and games to make physical activity a fun, rewarding part of daily life for families. - Lance Henderson, CEO, Zamzee
REDWOOD CITY, CA (PRWEB) September 14, 2012
Zamzee, a social enterprise on a mission to help kids and families be more physically active, today announced that it will give away 1,000 Zamzee activity meters to kids at two upcoming Giants events, courtesy of the Lisa and Douglas Goldman Fund. The Zamzee activity meter measures movement and connects to zamzee.com, where physical activity is translated into Pointz and rewards.
During the 2012 Giant Race on Sunday, September 16 in San Francisco, all kids ages 5-12 running in the FedEx Kids Race will receive a free Zamzee activity meter. Featuring a half marathon, 10K, 5K and kid- and family-friendly races, 13,000 runners are expected to participate in the Giant Race, one of San Francisco's premier road races. The FedEx Kids Race will take place on the field at AT&T Park after the other races have concluded. The Giant Race raises funds for Project Open Hand, which provides food, nourishment and emotional support to people facing life-threatening illnesses.
During the San Francisco Giants game on Saturday, September 23, against the San Diego Padres, starting at 1:05 p.m, the first 500 kids to visit Zamzee's table in the Coca-Cola Fan Lot at AT&T Park also will receive a free Zamzee activity meter. Staff from Zamzee will be available in the Fan Lot, located behind the bleachers, on the Promenade Level, to provide demos of the Zamzee activity meter and website and to answer questions.
"Zamzee's mission is to use the power of technology and games to make physical activity a fun, rewarding part of daily life for families," said Lance Henderson, CEO of Zamzee. "We are pleased to be working with our hometown San Francisco Giants and the Giant Race to provide Zamzee to kids, thanks to the generosity of the Lisa and Douglas Goldman Fund."
Sedentary behavior and obesity are major problems of national importance. There are approximately 20 million tweens and young teens in the U.S., and research shows that sedentary behavior is putting these young people at risk for serious and costly long-term health problems, including obesity, diabetes, heart disease and cancer.
To earn rewards, young teens wear the Zamzee meter, a three-axis accelerometer specially calibrated to record short bursts of movement as well as vigorous activity. Physical activity recorded by the Zamzee meter powers a teen's online account at zamzee.com. Early research shows that the Zamzee experience increases physical activity in young teens by 30% or more – the equivalent of running nearly an extra marathon a month.
Zamzee has received numerous awards and recognitions, including:

Named a Health Innovator by LAUNCH, a global initiative founded by NASA, USAID, the U.S. Department of State and Nike to identify and support the innovative work poised to contribute to a sustainable future and accelerate solutions to meet urgent challenges facing our society.
Recognized by President Obama as a model social enterprise at the launch of the White House Office of Social Innovation and Civic Participation.
Nominated for the "Most Innovative Game" award at the ninth annual Games for Change Festival. Zamzee was chosen from 67 candidates by 35 experts from the gaming industry, media, education, philanthropy and other fields.
Winner of 2012 G-Summit Award for "Best Use of Gamification in Health and Wellness."
Received the Aspiring Innovator Award from the San Mateo County Economic Development Association.
ABOUT ZAMZEE
Zamzee is a social enterprise on a mission to make it easier for tweens and families to be more physically active. The Zamzee meter and online experience is the result of several years of research, creative thinking and design based on feedback from kids and families. Studies show that kids who use Zamzee move +30% more on average than kids who do not – nearly an extra marathon a month of running per kid. Zamzee was established in 2010 by HopeLab Foundation, a nonprofit research organization that uses the power and appeal of technology to improve the health of kids. Initial research and development of Zamzee was conducted by HopeLab, with support from the Robert Wood Johnson Foundation. HopeLab and Zamzee are part of the Omidyar Group philanthropic enterprises. For more information, please visit http://www.zamzee.com.
ABOUT THE SAN FRANCISCO GIANTS
The San Francisco Giants of the National League is one of the oldest franchises in Major League Baseball. Boasting a 130-year history, the team moved to San Francisco from New York in 1958 playing a total of 42 years in Seals Stadium and Candlestick Park before moving to AT&T Park in 2000. The franchise was named 2010's Sports Organization of the Year by Street & Smith's Sports Business Journal Daily. Since opening its gates, AT&T Park has become internationally-renowned as a premier venue in the world of both sports and entertainment. On the diamond, more than 37 million spectators have witnessed a number of magical moments and four playoff appearances, including the franchise's first-ever Perfect Game, thrown by Matt Cain on June 13, 2012 and in 2010 when the Giants became the World Series champions for the first time since moving West. In 2008, the Giants celebrated the team's 50th year in San Francisco and it was the center of the baseball universe when it hosted the 78th Major League Baseball All-Star Game on July 10, 2007. AT&T Park has also played host to some of music's biggest acts, including the Rolling Stones, Bruce Springsteen and the E-Street Band and Green Day. Off the field, the Giants have one of the premier community outreach programs in professional sports, becoming the first team to implement a 100 percent participation program, involving every player, coach and uniformed staff member in at least one community project throughout the season. Through its community outreach programs, the Giants and the Giants Community Fund work with corporate and non-profit partners to raise awareness, educate and generate interest in a variety of issues important to both their fans and community including education/literacy, violence prevention, health and youth recreation and fitness.
ABOUT THE LISA AND DOUGLAS GOLDMAN FUND
Lisa and Douglas Goldman established their foundation in 1992 to support charitable organizations that enhance our society. Over the past 20 years, the Lisa and Douglas Goldman Fund has awarded philanthropic contributions of nearly $60 million to over 500 nonprofit organizations. The Fund's assets currently total approximately $170 million. The foundation provides support to nonprofit organizations working in seven areas: democracy and civil liberties, education and literacy, environment, health and recreation, the Jewish community, reproductive health and rights, and San Francisco Bay Area institutions. The Lisa and Douglas Goldman Fund also strives to be responsive and flexible by pursuing special projects and initiatives that address emerging issues that may not necessarily fall within these stated areas of interest. http://ldgfund.org/