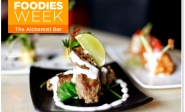 This week on Deal Monkey, get an eight-course tapas degustation for two at only $49 or a five-course Thai banquet for two at less than $60.
Melbourne, Australia (PRWEB) September 14, 2012
This week, Australia-based daily deals aggregator site Deal Monkey once again dishes out the latest food, travel, health, adventure, entertainment and other lifestyle deals for the savvy online shopper. Aside from daily deals, Deal Monkey also has other forms of online bargains such as regularly updated catalogues and competitions.
Deal Monkey compiles all the best online bargains and lets users choose their preferred deals and receive one email daily. This daily email highlights all the deals applicable based on the user's choices. Deal Monkey has a subscriber profiling feature which allows it to be a convenient and easy-to-use one-stop bargain inbox.
The one-stop daily deals aggregator site is managed by Australia-based up and coming digital solutions company The Digital Group. Managing Director Ashley Farrugia explained, "If you're visiting Australia and you're on a tight budget, Deal Monkey is a good place to start. In just one site, you can find good Sydney deals, Melbourne deals or whatever it is that you are looking for. Movie coupons, travel deals, restaurant discounts—we have it."
He added, "It's really all about convenient online shopping. Deal Monkey eliminates the need to go to so many sites for different things. Tell us what you want and we'll give it to you."
This week on Deal Monkey, get an eight-course tapas degustation for two at only $49 or a five-course Thai banquet for two at less than $60. Fashion bargain hunters will also find irresistible fashion deals including a stunning pendant and earrings set featuring Swarovski Elements crystal for just $29 including delivery. An Italian designed wooden watch available in five colors is also available at a 43% discount. To get a lowdown on all the deals for this week, visit the website now and sign up for a daily email.
In addition to Deal Monkey, The Digital Group also manages other ecommerce sites including female oriented shopping portal LetsShop.com; pet-related discount aggregator site PetBox.com.au; multi-user back end site for boutique winery offerings OzWineDirect.com.au; DealFree.com.au which is a commission-free daily deal site with no upfront outlay required from users; RocketEmail.com.au which is a fully managed HTML newsletter service focusing on real estate, financial planning and mortgage broking; hoist and crane products supplier RelayCranes.com.au; and Melbourne transportation services provider YellowExpress.net.au.
The digital solutions team also manages an in-house, specialist email marketing engine, SendNow, which utilizes Amazon SES technology to ensure high delivery rates and speeds. The same technology also allows for seamless integration of new members into an email database.
Together with other lists under management, The Digital Group also manages an online, non-incentivized database of more than 600,000 members across which they offer various kinds of marketing services including e-mail marketing campaigns, costs per acquisition (CPA), costs per lead (CPL) and costs per sale (CPS).
The Digital Group is also the official digital solutions provider of Carbon Market Pty Ltd, owner of Australia's leading carbon management portal.