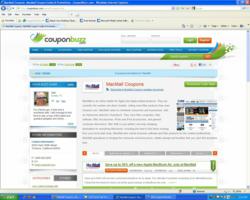 A durable, reliable wireless headset like the BlueAnt…is an essential tool for my life.
Houston ,TX (PRWEB) September 14, 2012
Today CouponBuzz.com announced another fabulous MacMall.com coupon that is part of the massive MacMall.com September sale. The featured offer today is for 59% off standard retail pricing on a BlueAnt Wireless T1 Bluetooth headset. The charmingly named BlueAnt headset is as diminutive as its name would imply. However, this unobtrusive tool for hands-free calling offers some great stand-out features. And CouponBuzz.com's special MacMall coupon section is hosting a featured coupon for giant savings on the BlueAnt headset. Now for a limited time the BlueAnt will retail at just $36.99 (a savings of $53.99 from its standard retail price of $89.99 dollars.) The coupon expires September 30th, 2012.
"I find that as a small business owner, I spend a lot of my time on the phone with suppliers, clients, employees, etc.," stated Justin Bowen, CEO of CouponBuzz.com. "The greater proportion of that time that I can spend multi-tasking or on-the-go, the more work I am able to accomplish in a day. And as most entrepreneurs can tell you, saving myself time almost always equates to saving myself money. A durable, reliable wireless headset like the BlueAnt we are offering a MacMall.com coupon for today on my site, is an essential tool for my life."
The BlueAnt Wireless T1 Bluetooth headset is designed to be extremely durable and last an impressively long time. Most individuals who use a headset find that it is difficult to treat it delicately, often there is nothing more frustrating than a 'fragile' electronic. The BlueAnt is designed to be thrown into pants pockets with sets of keys, dropped into a cup-holder with change, or tossed into a glove box. The sturdy earpiece is accompanied by soft-touch silicon covers to protect and cushion the headset from the bumps and bruises that every day usage can entail. These covers are patent pending, removable and interchangeable.
Another essential element of any premium wireless headset is the ability to hear clear audio through the device in a wide variety of conditions. The main reason a user usually needs a headset at all is because they are not sitting calmly in an office-like contained environment. The T1 is the first BlueAnt headset to feature the revolutionary Wind Armour technology. This patent-pending solution combines design features with BlueAnt's proprietary noise cancellation software, and is the product of years of research. The result is a headset capable of delivering clear audio in wind speeds up to 22 mph, and confidently markets itself as "the best wind noise reduction of any Bluetooth headset on the market."
These are just a few of the reasons the BlueAnt T1 Wireless headset normally retails at the $89.99 price point, and why today's MacMall.com coupon is a screaming deal. In addition, this premium piece of cutting edge technology is also the first BlueAnt headset to offer features like 'Caller Name Announce.' The ability to have the name of the incoming caller read out electronically is an exciting development in hands-free Bluetooth technology, and simplifies usage even further.
With Caller Name Announce, users don't need to check a phone screen to determine the urgency of any given call, and can respond to the call simply by stating 'Answer' or 'Ignore.' Another nifty feature of the BlueAnt T1 is A2DP, which allows streaming audio of podcasts, and turn-by-turn direction from GPS applications a user has installed on their mobile phone. For more information on how to purchase this impressive Bluetooth headset for just $36.99, at 59% off retail, interested shoppers should check out the link in CouponBuzz.com's MacMall.com coupon section, located here http://couponbuzz.com/macmall-coupons.html.