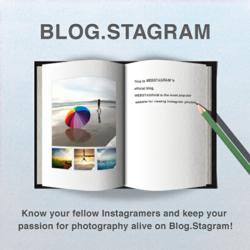 Singapore, Singapore (PRWEB) September 18, 2012
Instagram website viewer Webstagram launched its official blog Blog.Stagram on Tumblr last week, serving as a platform to facilitate more interaction among Instagram users outside the application.
Facebook founder Mark Zuckerberg had recently announced that the photo-editing application has just reached 100 million users, resulting to a growth of more than 1001% in just six months.
Consequently, more Instagram users are also now turning to their web browsers to access their photos and interact with fellow users.
Webstagram, currently the most popular Instagram website viewer, receives 150 million monthly pageviews, a jump from 100 million a month ago with its top visitors coming from North and South America, Thailand, Russia, Australia and United Kingdom.
"As Instagram users are growing rapidly, so is the demand for connecting with fellow users on the web, which we hope can be facilitated through this blog. At the same time, we also wish to highlight the diversity of Instagram users around the world," said Webstagram founder Joe Mio.
Webstagram recently collaborated with Instagramer Network on a project that features National Day photos submitted by local Instagramers Network communities from different countries. The first post featured 20 photos from Instagramers Brasil.
Instagramers Network is a worldwide community founded by Philippe Gonzalez who was recently selected to manage Johnnie Walker's Instagram feed during the Formula 1 Grand Prix in Italy.
More similar collaborations between Webstagram and Instagram communities can be expected in the near future.
Another main highlight of Blog.Stagram is Websta Questions, a series of random and easy questions that are answered through photos. The most interesting and creative answers are then featured on the blog.
"The beauty of this activity lies in the fact that you find a variety of answers from people you haven't met and see how people can get creative with simple questions. The mere act of doing something creative together is an emotional connection we didn't easily do with the rest of the world or find everyday and now we can thanks to Instagram," Mio added.
Instagram users are also featured through "Follow This" and "Project Spotlight", which introduce users based on hobbies and Instagram projects respectively.
Webstagram fans can expect more interactive features from Blog.Stagram, which can help them know more about fellow Instagram users around the world and improve their photography skills at the same time.
About Webstagram:
Webstagram is well known for its wide range of functional tools for Instagram users who view photos and interact with each other on web browsers. The Instagram website viewer was developed by A-FIS PTE LTD, who is also responsible for creating the direct messaging and search features for Instagram namely DM.Stagram and Search.Stagram. A-FIS PTE LTD is a Singapore-based web-developing company founded in August 2011.
For more information, contact info(at)stagram(dot)com or visit http://web.stagram.com/ and http://www.facebook.com/webstagram.