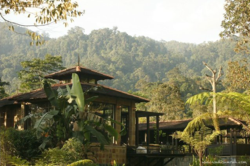 Wadi Samrah is not only known among the locals but also popular with tourist mostly from Europe
Kuala Lumpur, Malaysia (PRWEB) September 15, 2012
Located in the beautiful highland of captivating Malay kampong of Janda Baik, Wadi Samrah is just located 49km away from Kuala Lumpur which is about an hour drive and 25km away from Genting Highlands.
Dato Shamsuddin Hayroni, the Executive Chairman of Majulia Group engineered the birth of this world class resort that promises exclusive luxury with beautiful mountain ranges as the backdrop beefed up with man-made streams and waterfalls to take your breath away in an instant.
Wadi Samrah resort offers four bedroom villas and two bedroom villas that are elegantly decorated fitted with a balcony or terrace designed to combine with the natural surroundings. All villas are installed with air conditioning as well as, ceiling fans. Unpainted wood with rich handmade craftsmanship, Samrah will give you the exotic nature ambience and feel amidst the morning captivating landscape and evening sunset with the beautiful night jungle music.
For the outdoors, activities such as, cycling, swimming and wading is at the forefront of the many things that guests are able to enjoy at the resort. Dato' Shamsuddin even equipped Samrah with an inviting swimming pool and fitted a Jacuzzi give guests a serenade experience in the middle of the jungle.
Lastly, the Samrah Tower includes TV and Karaoke facilities for entertainment and to sing their lungs out at the tower which is located at a secluded corner of the resort.
A once private resort, Wadi Samrah resort is now open to everyone all year round. Dato' Shamsuddin Hayroni said, "Wadi Samrah is not only known among the locals but also popular with tourist mostly from Europe".
Call 6012-2170616 to make your advance booking or enquiries.
You may also like to view Majulia Group or get to know about Getrahome.