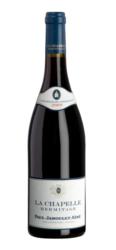 Caroline Frey is one of France's most important winemakers and she has had an incredible impact in the short time she has been in charge at Paul Jaboulet Aîné and Chateau La Lagune
(PRWEB UK) 18 September 2012
Paul Jaboulet Aîné is one of the most recognisable names in French wine, and owner of the iconic La Chapelle vineyard in Hermitage. Founded by Antoine Jaboulet in 1834, the domaine remained under the same family ownership until the Freys purchased it in 2006. Since then, Caroline Frey has overseen extraordinary investment in the domaine's vineyards and cellars, and the resulting wines have restored Jaboulet's reputation as one of France's very best producers.
Bibendum will focus on distributing Jaboulet's northern Rhone wines, including Hermitage La Chapelle, to complement its already strong Rhone portfolio that includes the Sommelier Wine Award's European Producer of the Year, Château de Saint Cosme (Gigondas), Domaine Grand Veneur (Châteauneuf du Pape) and Domaine Jamet (Côte-Rôtie).
Château La Lagune, the highest ranked Haut Medoc property in Bordeaux's 1855 classification, also joins the Bibendum portfolio with the addition of the Château's 2nd and 3rd wines: Moulin de la Lagune and Mademoiselle L. The Grand Vin will continue to be sold on the Bordeaux place.
Stuart Grundy, Bibendum's Director of Buying for the northern hemisphere, said: "Following on from our recent announcement that we will represent Gaja's Tuscan estate Ca'Marcanda, I am delighted that Paul Jaboulet Aîné and Château La Lagune have joined our portfolio. Caroline Frey is one of France's most important winemakers and she has had an incredible impact on these famous names in the short time she has been in charge. We are very excited about working with Caroline and the team at Jaboulet and La Lagune to increase sales to the UK on trade and independent merchants."
Caroline Frey, General Manager and winemaker at Paul Jaboulet Aîné and Château La Lagune, added: "We choose our distribution partners very carefully and have selected Bibendum because of their relationships with the best restaurants and independent merchants in the UK, and their proven ability to work successfully with some of the world's finest wineries."
Bibendum is listing the following wines from 24th September 2012:
Paul Jaboulet Aîné: Crozes Hermitage Blanc Les Jalets 2011, Crozes-Hermitage Domaine Mule Blanche 2011, Condrieu Domaine des Grands Amandiers 2010, Hermitage Le Chevalier de Sterimberg 2008, Crozes-Hermitage Rouge Les Jalets 2009, St Joseph Rouge Le Grand Pompee 2009, Cornas Les Grandes Terrasses 2009, Crozes-Hermitage Rouge Domaine de Thalabert 2007, Hermitage La Petite Chapelle 2007 and Hermitage La Chapelle 2007.
Château La Lagune: Moulin de la Lagune 2009, Mademoiselle L 2009.
The wines will be available to Bibendum's on trade and independent merchant customers from 24th September. Businesses that currently list wines from Paul Jaboulet Aîné or Chateau La Lagune and who have questions regarding ongoing supply should contact tradesales(at)bibendum-wine(dot)co(dot)uk
A selection of the Paul Jaboulet Aîné wines will be available to taste on that day at Bibendum's Artisan Tasting at The Gallery Soho in London from 3pm to 9pm.