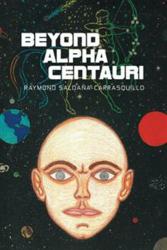 the most quiet and reserved children had hidden talents that surpassed their roommates
Caguas, Puerto Rico (PRWEB) September 15, 2012
Raymond Saldaña-Carrasquillo's new novel "Beyond Alpha Centauri" (published by Abbott Press) is a fantastic adventure that explores the life of a unique boy with amazing potential, challenging the reader to reexamine and consider what it truly means to have a home and be a family.
"Beyond Alpha Centauri" is a journey into the life of a boy, Duggan, not of this world, who possesses powerful abilities beyond the capacity of a normal human. Duggan's powers grow as his young body does, and his parents watch in wonder as he learns of his alien powers and abilities. He can read minds, and he can detect when the family is being observed by alien forces. He can also take his family for journeys in his invisible spaceship, soaring fearlessly through the clouds and through the terrifying depths of the seas with equal ease. Together, they explore his unknown potential and power, safe from prying eyes on their rural homestead.
Written in a personal, conversational style, the book is an engaging adventure into the wonders of exploration and the natural world. It also serves as a springboard for a dialogue that questions what it is to be truly a part of a family – whether your home chooses you or you choose your home.
Saldaña-Carrasquillo was inspired to write by his career dealing with children. "My 20 years as a teacher I had ample opportunities to study children," he says. "I often noticed that the most quiet and reserved children had hidden talents that surpassed their roommates. Nowadays they are professionals of note."
About the Author
Raymond Saldaña-Carrasquillo was born during World War II in Caguas, Puerto Rico. He moved to Chicago as a child and returned home to Puerto Rico to earn his degree in education. He taught English for 20 years. Now retired, he is enjoying the ravages of old age.
Abbott Press, a division Writer's Digest—the oldest and most respected publisher devoted to the education and advancement of writers—is an indie-publishing imprint dedicated to helping writers bring their literary vision to print. Author Solutions, Inc., a leader in indie book publishing, will fulfill publishing, sales, and marketing services for Abbott Press. For more information, or to begin publishing a book today, log on to abbottpress.com or call 866-697-5310.
###