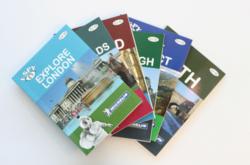 (PRWEB UK) 14 September 2012
Since the relaunched Michelin I-Spy books hit bookshop shelves back in 2009 they have been a resounding success with almost one million books sold in the last three years. There are now more than 50 titles in the collection, with the most popular being 'On a Car Journey', 'Birds' and 'Cars'.
Since their heyday in the Swinging Sixties, the iconic collection has been embraced by children and adults alike. They are fun, educational, a great way to get the family together and at just £2.50, offer excellent value for money.
Created in 1948, the pocket-sized picture books were designed by Charles Warrell as an educational activity and to develop children's powers of observation. By the use of illustrations and rewards, the books help inject a sense of curiosity into the minds of children, helping them acknowledge and discover what's out there in the big, wide world.
Ian Murray, Head of Michelin Maps and Guides UK, said: "It's fantastic to see the I-Spy books have been so warmly received once again. The sales figures show how much of a household name the books have become and how traditional values of spending time with the family and getting out and seeing places are still very important to many.
"I think the secret to I-Spy's appeal is its timeless charm. The books give children a refreshing opportunity to take a closer look at the world around them."
Each pocket sized guide contains up to 200 themed colour photographs of objects, animals or places which readers have to spy. The aim is to tick them off as you spy them, collect the points and if you reach 1,000 points you can send off for a certificate.
I-Spy books are available from http://www.ispymichelin.com, Amazon and all good bookshops. For more information please contact Michelin Travel Partner at: travelpubsales (at) uk (dot) michelin (dot) com or telephone 01923 205240.