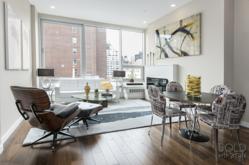 Jay Hart, former owner, Initial Impressions Inc.: "I am honored today to be combining my company with A Proper Place. Our combined assets enable us to fulfill the needs of clients like no other home staging company in the NY region.
New York, NY (PRWEB) September 16, 2012
Sold With Style is launching a new business model, Pre-Sale Property Consulting, which combines traditional Home Staging services with an analytical approach. The process incorporates market research detailing buyer preferences, sales peaks by location, and how the gap between asking price and sales price of real estate changes over time. The firm will help sellers answer the questions: "When am I most likely to sell my home?" and "When am I most likely to get my best price?"
This new approach leads to tailored Market Ready Reports that outline the necessary steps, improvements and investments home sellers need to initiate in order to achieve shorter DOM and higher sales prices. Once a plan has been developed, the company utilizes its expanded warehouse of their own furnishings and accessories. In addition, the firm will tap its long-time associations with myriad local suppliers, contractors, and designers to fulfill the plan, ensuring a more intelligent, effective and holistic approach to selling properties.
Barbara Brock, former Owner, A Proper Place Inc.: "I'm thrilled today to merge my company with Jay Hart and Initial Impressions. I believe that Sold With Style is a company with unmatched energy, creativity, experience, and skills to help clients throughout their pre-sales process."
Jay Hart, former owner, Initial Impressions Inc.: "Barbara Brock is a pioneer in the Staging industry and has always been an innovative force in the NY marketplace. I am excited about the new business model we've created and the financial benefits our services will have for our clients."
The merged entity is focusing on the Metropolitan NY market, offering its services in New York City, Long Island, northern New Jersey and lower Connecticut. The firm has offices in both Upper East Side Manhattan, which houses its sales operations and Bronxville NY, where it houses its furniture inventory and support personnel. For more information, contact the company at (646) 807-9494 or visit their website at http://www.soldwithstyle.com.