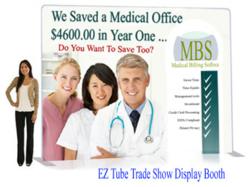 Get it printed fast ... we print and ship within two days of approved artwork.
Fort Myers, FL (PRWEB) September 18, 2012
Anything Display announced Faster turn times, reflecting their new 'eXtreme Support' initiative.
"In the online world it's getting harder and harder to get old school support. We're committed to the customer service that has driven our success.", says Zatae Monfet of Anything Display.
She continues, "We've made another step in the direction of our 'eXtreme Support' initiative now offering even Faster turn times on trade show back-wall displays. We added a quick find page featuring our best-selling 'Fast Turn Printed Displays that we can get processed and shipped out the door in as little as two days from approved artwork; with no rush fees."
"These fast turn graphic displays are among our most popular items," Zatae concludes, "Our standard three to five day turn times are very popular; now with our new 'eXtreme Support' initiative we're now able to turn out these high quality printed displays even faster."
###
About Anything Display - A privately owned company based in Fort Myers, Florida, Anything Display is an online supplier of In Store and Storefront POP Marketing Displays - Outdoor Event Displays - Tradeshow Industry - product offerings include Trade Show Banner Displays, Convention Booths, Trade Show Hanging Banners, Trade Show Accessories, and much more ... Serving clients in all 50 states and Canada across multiple industries. For more information visit http://www.anythingdisplay.com or call 239-433-9738.