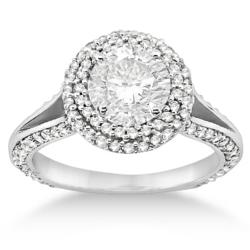 Apparently a lot of the respondents went the traditional route.
New York, NY (PRWEB) September 14, 2012
It seems that people are getting more creative as time goes on when it comes to engagement ring proposals. This seems to be very clear to an online jewelry retail site called Allurez. The company recently conducted a survey consisting of open-ended questions regarding their customers most "wild, creative, or elaborate" engagement proposals.
"We were surprised with the results. Apparently a lot of the respondents went the traditional route. Very few people that Allurez interacted with had stories that were out of the ordinary," according to a company spokesperson.
The internet is filled with lists of unique engagement proposal ideas. They range from getting the idea across to your partner in private to getting it across among an audience. Unique engagement proposal ideas include:

Secret messages in bottles planted in the water when couples go sailing
Engagement proposal messages hidden inside fortune cookies
Secret puzzles that form the words "Will you marry me?" solved by couples
Ads on billboards with a couple's picture that professes one partner's love for another
Ads with proposal messages inserted before the trailers of movie theater films
"We're not surprised that almost none of the people we spoke to mentioned actually proposing in any one of these ways. That's because our seasoned customers are usually in the 35-55 year old age group. What this all really means is that about 15-20 years ago people were probably more focused on just getting the message across."
The spokesperson also noted that the emotional impact a proposal will have on a partner has a lot to do with type of engagement ring that person gives their partner. The spokesperson noted that Allurez also carries a full-line of gemstone engagement rings. Customers can even build engagement rings with colored diamonds. This can allow consumers flexibility in personalizing their engagement rings.
Allurez is an online jeweler that specializes in white diamond, colored diamond, and gemstone engagement rings. They also have a large inventory of other fine jewelry. Based in New York, the company is currently expanding at a double digit percentage. For more information, visit http://www.Allurez.com.