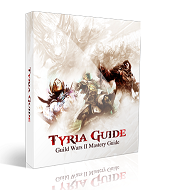 (PRWEB) September 14, 2012
Guild Wars 2 has quickly become one of the most popular MMORPGs on the market, with MMO veterans and newcomers alike flocking to the game from all over the world. One of the primary reasons for the popularity of Guild Wars 2 is its players versus player (PvP) system. This game mode pits players against each other in both small and large scale battles. However, these matches are known for their difficulty, since this zero-sum game requires one player to lose in order for another to win.
In order to win more frequently, players often turn to strategy guides to help them get an edge on the competition. In order to meet the demand, the Guild Wars 2 guide Tyria Guide has dedicated a large portion of their strategy section to player versus player builds and strategies. By using the builds from Tyria Guide, players are able to do more damage and have more survivability in PvP, letting them take down other players more frequently while dieing less. More details are available at Strategy Guides HQ.
Player versus player in Guild Wars 2 features two primary game modes: World vs World (WvW) and Structured PvP (sPvP). WvW battles are long and time consuming and often go on for days. Players need to coordinate strategies and use tools like battering rams in order to take over objectives on the map in order to take over more objectives.
Structured PvP on the other hand puts more individual responsibilities on the player due to the smaller group size. In sPvP, players will need effective builds in order to maximize their damage output. Tyria Guide aims to provide players with these necessary tactics and strategies as well as builds so they are well prepared for both WvW and sPvP.
Not only do players want to win because it is fun, but players are also able to get rewards from participating in PvP. When defeating other players, the victor sometimes is rewarded with a PvP token that can be traded for new equipment or other rewards. This gives players the extra motivation they need in order to be the best in player versus player, causing them to check out Tyria Guide in droves. You can learn more about Tyria Guide at Strategy Guides HQ.