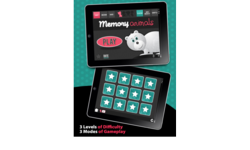 Kalamazoo, MI (PRWEB) September 14, 2012
Memory Animals, an app for tablets, provides a fun twist on this classic game with vibrant animal graphics and three game play modes at three varying degrees of difficulty. Another app from Learning Gems, Memory Animals can be downloaded from the Amazon and Barnes & Noble app stores as well as on Google Play.
This educational app allows children to practice cognitive skills and, through use of text and audio, the game teaches different animals. As each card selection is made, the name of the animal is displayed at the bottom of the screen with an audible pronunciation. This feature can easily be turned off too, making the app appealing to adults.
After downloading Memory Animals and launching the app, you will be presented with three different modes of game play to choose from. These include classic, anti-gravity and shuffle modes. Classic mode emulates the original game of memory. Rows and columns of cards are presented that the player tries to match pairs from. The next mode, anti-gravity, presents the same rows and columns of cards, however this time, the cards slide around the screen as you play, forcing your memory to remain exceptionally sharp and alert throughout the game. The final mode to try is shuffle. As with the other modes, rows and columns of cards are presented. In this mode, however, after each attempt at making a match, the cards are scattered about aggressively. This is the most challenging mode and will require the most exercise from your memory.
In addition to different modes, Memory Animals can be played at three levels of difficulty, easy, medium and hard. The higher the level of difficulty, the more cards the player is dealt. A multi-player mode is also available and allows up to four participants to play at one time.
Learning Gems strives to create fun, educational apps for children. Some other apps from the company offer practice with math, spelling and Spanish as well as basic concepts, such as colors and shapes. Learning Gems is a sister company of Blue Fire Media. Blue Fire Media, is a Kalamazoo Web design company that specializes in web development and design, web marketing and SEO.