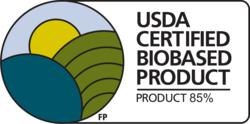 Milwaukee, WI (PRWEB) September 15, 2012
Renewable Materials
Since 1926, Milorganite fertilizer has made sustainability a core value and operational philosophy. Milorganite is made from heat-dried microbes that have digested the organic material in wastewater. The Milorganite program is one of the world's largest recycling efforts.
USDA BioPreferred Program
The BioPreferred program qualifies products as biobased if they are "composed wholly or significantly of biological ingredients-renewable plant, animal, marine or forestry materials." Fertilizers are tested for biobased content by a third-party lab and then deemed certified by the USDA.
BioPreferred Label
The BioPreferred program goal is to increase the purchase of biobased products resulting in a reduction of petroleum consumption, increase the use of renewable resources, better manage the carbon cycle, and contribute to reducing adverse environmental and health impacts. Look for the certified biobased label to identify these products to help select products that reduce environmental impact and are proven to be more environmentally friendly.
About Milorganite
Headquartered in Milwaukee, Wisconsin, Milorganite products are manufactured and marketed by the Milwaukee Metropolitan Sewerage District (MMSD), a regional government agency that provides water reclamation and flood management services for about 1.1 million customers in 28 communities in the Greater Milwaukee Area. Since 1926 Milorganite has been a world leader in supplying Organic Nitrogen fertilizer for professional and residential use. While revenue generated through the sale of Milorganite products does not make up for the entire cost to produce and market, our belief in beneficial reuse and recycling makes producing our value added products the clear choice.
For more information on Milorganite and for lawn care tips, visit our website http://www.milorganite.com.