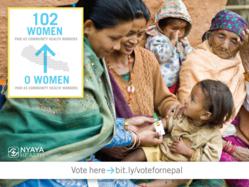 I have officially joined this campaign to raise support and votes for 'Nyaya Health' to win $250,000 to continue their noble work for our own Nepali brothers and sisters in the Far west. — Shristi Shrestha, Miss Nepal 2012
Boston, MA (PRWEB) September 14, 2012
WHAT: Shristi Shrestha, Miss Nepal 2012, is helping a group that brings free health care to rural Nepalis in its bid to win a portion of $5 million in grant money in the annual Chase Community Giving Contest. Shrestha urged her more than 150,000 online followers to vote for Nyaya Health at bit.ly/VoteForNepal, saying:
"I am touched and inspired by the health care work they (Nyaya Health) have been providing in the remote Far-Western Region of Nepal for so many years. I have officially joined this campaign to raise support and votes for 'Nyaya Health' to win $250,000 to continue their noble work for our own Nepali brothers and sisters in the Far west. I feel that, we can yet again unite together to help our fellow Nepalis there, by voting for this noble cause."
Mahabir Pun, an innovative teacher and advocate who has worked to expand educational opportunities in rural Nepal by connecting villages to the Internet, is also supporting Nyaya Health and urging followers to #VoteForNepal.
WHEN: Now through Sept. 19, Nyaya Health is competing in the annual Chase Community Giving program, an online contest where supporters' votes can translate into expanded health care for people living in one of the world's poorest regions. Nyaya Health has been nominated for a share of $5 million in grants, which will provide free health care for thousands in rural Nepal. Anyone can learn more about the organization's work at its website. Supporters are also encouraged to Tweet for Nyaya Health with the hashtag #VoteForNepal and to vote at bit.ly/VoteForNepal.
WHY IT MATTERS: The Far-Western Region of Nepal is one of the least developed regions of the world, with few options for health care. Just this month, the World Health Organization (WHO) released information showing that Nepal is in desperate need of more health care workers, with fewer than 23 doctors, nurses and midwives per 10,000 people. The WHO says the lack of trained workers is, "hampering the delivery of health services," and calls for community-based health care work as a solution. Nyaya Health, through its re-opening of the once-closed Bayalpata Hospital and training of its more than 100 community health workers, is working to close that gap. The grant would allow Nyaya Health to expand health care to thousands in the rural area.
BACKGROUND: The people of Nepal where Nyaya Health is based have the right to quality health care. In addition to providing day-to-day care, Nyaya Health partners with government agencies to promote the creation of just systems and, "infrastructure for equity," which creates the possibility for the right to health and sustainable change.
Nyaya Health uses a forward-thinking model that's building sustainable, long-term infrastructure for health care in Nepal's Far-Western Region. In Nepal, 98 percent of Nyaya Health's staff is Nepali, and more than 80 percent of team members come from the Far-Western Region where the organization works. More than 101,000 people in the region have accessed free health care since 2008 thanks to the nonprofit's work.
For interviews with Executive Director Mark Arnoldy or for additional background on Nyaya Health or the contest, contact Erin White, erin(at)caminopr(dot)com, 212.255.2575.
###
Nyaya Health brings life-saving, quality health care to rural Nepalis by establishing hospitals and clinics and training community health care workers. The nonprofit, which re-opened the previously abandoned Bayalpata Hospital, has brought free health care to more than 101,000 people in Nepal's Far-West Region.