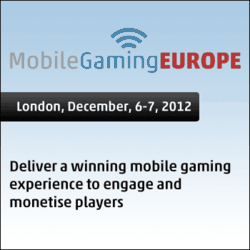 This interactive event will be held on Monday, 24th September at 15:00 (GMT)
London (PRWEB) September 17, 2012
Video Games Intelligence has now opened registration for the Free Webinar: Mobile Gaming Player Engagement and Monetization which will explore how to get more people to play, stay, and ultimately pay on mobile! Sign-up here: https://www3.gotomeeting.com/register/766911798
This interactive event will be held on Monday, 24th September at 15:00 (GMT) and it is open to the whole gaming community.
Mobile gaming is booming – that much is clear. A recent survey for PopCap found that 125mln people were playing games on handheld devices across the UK and US. While SuperData Research says the mobile gaming market will be worth £4.8 billion by 2015, almost three times today's value.
There is no shortage of good news. There are more players, more revenues at stake, widening demographics, and more "occasions" when players are playing. The explosion of mobile and tablet devices means gaming has gone from being a living-room pursuit to something people do everywhere.
The 2012 PopCap Games Mobile Games Research report finds that gamers are still most likely to play on the sofa (69 per cent of those surveyed). But they are now also playing in cars, or on the bus or train (63 per cent), lying in bed (57 per cent), waiting for an appointment (55 percent), or while watching TV (41 per cent).
With expansion comes greater complexity though. In the old days, developing games was mainly a matter of making something good, and hoping people would pay to download it. Today, monetisation is more sophisticated, and competition much fiercer. The 45-minute session includes live Q&A's and will be delivered by three key industry figures:

Christopher Kassulke, CEO and owner, Handy Games
Oli Christie, CEO, Neonplay
Will Luton, Mobile Consultant
All three will tackle crucial questions around: The opportunities and challenges in mobile gaming, and which devices developers will be championing over the next 6 months. The business model debate and how developers can best get players to play, stay and ultimately pay. And what needs to change in mobile gaming to make progress faster?
The webinar can be joined for free at: https://www3.gotomeeting.com/register/766911798
And if you sign up and can't attend, you'll still get the full audio and the presentation slides sent to you after the event.
This webinar is part of a series of expert talks conducted by Video Games Intelligence in preparation for the Mobile Gaming Summit (London) which will take place December 6-7. Get full information on the Summit and get the event brochure here: http://www.videogamesintelligence.com/mobile
Contact George Kiley, Video Games Intelligence, on: gkiley(at)fcbusinessintelligence(dot)com for more info on either the webinar or the December event. And please note, you don't have to leave the office to attend a webinar; you just need your computer and a good internet connection to hear the presentations.