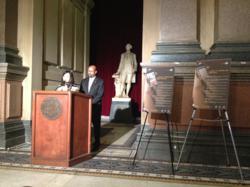 The Philly311 mobile application is the latest step toward a smart, responsive 21st Century municipal government
Philadelphia, PA (PRWEB) September 14, 2012
On Thursday, September 13th, Mayor Michael A. Nutter announced the Philly311 Mobile App, which will put city government at citizens' fingertips by allowing them to report issues and service requests 24 hours a day. The app, created in partnership with PublicStuff, is free to the public and compatible with iPhone, Android and Blackberry. Residents will now be able to become more active citizens in their neighborhoods by sending in service requests for issues such as potholes, graffiti and litter to City departments in real time.
"The Philly311 mobile application is the latest step toward a smart, responsive 21st Century municipal government by ensuring that Philadelphians can quickly and effectively communicate their needs to city government," said Mayor Nutter. "This app will bring city services to citizens' fingertips and will continue the transformation of government into a nimble customer-service organization."
City staff will be able to communicate with residents to provide comments, completion notifications and more information regarding service requests. PublicStuff's fluid integration with existing Philadelphia workflow management systems – Novo, Hansen and Cityworks – further allows staff to respond immediately to citizen request needs. The integration also provides city employees with detailed data reports and analytics, allowing them to spot trends as they are happening.
"The new Philly311 app will give our residents access to city services like never before. Utilizing the app, citizens are able to become leaders in their own community by reporting issues and concerns in real time, from any device. We're excited to give citizens the power to influence positively and change their community with such access." Said Richard Negrin, Deputy Mayor for Administration and Coordination and Managing Director.
Using the reporting tool, residents will be able to accurately geo-target the exact location of service requests, save draft requests to send at a later time, and take multiple photos of the request being reported. They will also be able to vote and support other service requests in their neighborhood, provide comments on requests and track the progress and completion rates.
Chief Information Officer Adel Ebeid said, "This is yet another innovative approach for using technology to bring residents closer to their government. The new Philly311 mobile app allows us to transform the current 3-1-1 into a civic engagement platform, which is unique among other cities with 3-1-1."
The Philly311 app will also serve as a platform and portal to pertinent city related services. Philly311 will include customizable widgets so users may have access to a 911 button, FAQ section, Philly's YouTube Channel and City maps.
"Launching the Philly311 mobile app is another customer service channel that will allow us to empower communities and individuals like never before," said Rosetta Lue, Office of the Managing Director's Chief Customer Service Office that helped spearhead the Philly311 project. "The additional widgets and communication tools that accompany the app, will give our residents a direct link to City Services so they can truly be their own community hero."
PublicStuff Founder and CEO Lily Liu said, "The Philly311 app is extremely intuitive and user friendly. Using the tool, residents will have a direct line to the City of Philadelphia, removing any barriers to seamless communication. We are thrilled and honored to have worked with the City of Philadelphia on this project to help further engage the Philadelphia Community."
For more information on Philly311 and PublicStuff, please visit:
Online Portal: http://www.phila.gov/311
iPhone: http://www.publicstuff.com/iphone/philadelphia-pa
Android: http://www.publicstuff.com/android/philadelphia-pa
BlackBerry: http://appworld.blackberry.com/webstore/content/130257/?;amg=en