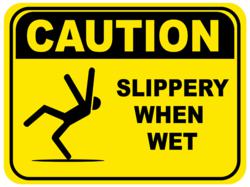 "We purchased several custom made signs with different phrases. We switch them up every few days and we have found it gets more noticed than having the same sign day in and day out."
Lake Oswego, OR (PRWEB) September 18, 2012
Hazardous environments are common among manufacturing production facilities, warehouses and factories. Warehouse signs are a great tool for getting the message out in the open of possible dangerous zones. Through safety programs, everyone within the company is encouraged to promote occupational safety along with creating a healthy workplace. Creative Safety Supply is now offering a multitude of safety signs that are ideal for all environments. The popular pre-made floor signs come in any shape and full color that will stop anyone in their tracks to take notice of a cautionary area. The extra strong material and adhesive are durable enough to withstand the harshest of environments indoor and outdoor.
Creative Safety Supply also offers the opportunity to make custom signs for specific needs that a business may request. Special images, logos or catchy safety slogans is a great way to keep ideas from becoming stale and unnoticed by workers and visitors. By changing the phrase on a sign will get the attention of the viewer and will cause more notice and fewer accidents. As one warehouse supervisor commented, "We purchased several custom made signs with different phrases. We switch them up every few days and we have found it gets more noticed than having the same sign day in and day out."
One of Creative Safety Supply's most popular pre-made caution sign is the Slippery When Wet floor sign. It is a great way to promote any 5s program by communicating safety instructions and directional information. Due to the easy installation of peel-&-stick, there is no downtime or hassles which will save a company time and money.
Please visit http://www.creativesafetysupply.com for more information on warehouse signs and other safety products. Or call toll-free (866)777-1360 to speak with a professional representative that can answer all your questions.