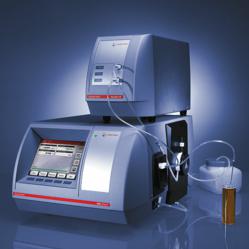 Ashland, VA (PRWEB) September 18, 2012
A new application report available from Anton Paar describes the use of the HazeQC ME for turbidity measurement as an essential procedure when it comes to the clinical use of infusion solutions. The measurement of turbidity is described in the European Pharmacopoeia, chapter "Clarity and Degree of Opalescence of Liquids." Strict requirements are placed on turbidity measuring instruments, all of which the HazeQC ME fulfills.
The HazeQC ME is used as an add-on to the DMA Generation M density meter. The measuring model is a three-angle turbidity meter which determines the turbidity of liquids with the highest precision, which proves it most useful in the field of pharmaceutical applications.
For a copy of the free application report "Turbidity Inspection in the Pharma Industry," please contact Anton Paar USA at (800) 722-7556 or visit online at http://www.anton-paar.com/HazeQCME.