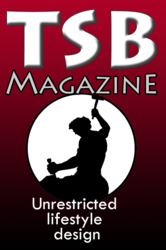 Hoboken, NJ (PRWEB) September 17, 2012
TSB Magazine, an online resource for dating advice and general men's interest stories, has recently released a TSB Magazine smart-phone app. This app is available for both iPhones and Android-powered devices. According to TSB, the newly released application is a vastly improved version of the magazine's previous smart-phone offering. The program can be obtained through iTunes, the Android marketplace and also from a link on the TSB web site. It is free to download. In addition to being offered for iPhone and Android devices, the app can be used on other devices that support Android programs or Mac apps. These include the iPads and iPod Touch and Android-powered tablets.
The editors of TSB Magazine call the new program a "lifestyle design app (that) will give you the tools to meet more women, get in better shape, dress more fashionably, and make more money." According to early reviews, the program has a wealth of practical information that can be used for aiding lifestyle design and dating ambitions.
Users can access all the information found on the TSB web site via their phone though the app. This means that they won't have to use their phone's browser to view TSB's tutorials and articles. Some of the extra tools inside this app include a "dating cheat sheet" with advice about pick-up lines and first date ideas, motivation and inner-game advice that is designed to increase confidence and self esteem, and a "flirtation and attraction reference guide" that has strategies for a variety of dating and pick-up situations.
In addition to these dating and confidence-building tools, the TSB Magazine app also features all the content from the TSB web site. App-users will have access to the full library of TSB's articles and content, which is updated daily. New articles will be available on the app at the same time that they are published on the web site. Though it is mainly known as a source for dating advice, TSB also has articles about self-confidence, college life, finance, entertainment, men's fashion and a variety of other men's interest topics.
TSB has been dispensing dating advice and offering articles about confidence, fashion, finance and other men's interest topics for the better part of a decade. In addition to the content that is offered online in magazine format, the site has become known for offering a variety of ebooks, courses, and other tools that are focused on dating advice and confidence building. Many of these courses and books were created by dating guru Bobby Rio, who is also the founder of TSB Magazine and one of the creators of the recently released smart-phone application. A full list of TSB's products is available from Amazon.com.
Learn more about TSB Magazine here: http://www.youtube.com/tsbmagazine