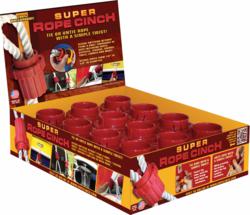 Super Rope Cinch is a great alternative to the Scouts selling popcorn
Lorain, OH (PRWEB) September 14, 2012
Come join Sea Scouts Ship 504 Scouts and their families this Sunday, September 16 at Lorian Sailing & Yacht Club in Lorain, OH. Sea Scouts will be sailing, and also raising money for future sailing destinations using the Super Rope Cinch boat securing device. The Sea Scouts and Boy Scouts of America have begun using the Super Rope Cinch as an alternative to popcorn for fundraising efforts. The Super Rope Cinch is a natural fit for Sea Scouts, since it is commonly used by boaters for securing boats and personal water craft to a dock, and also for securing loose items on their boats.
All members of Ship 504 and their families are invited to join Sea Scouts Ship 504 this Sunday for a fun, family-oriented afternoon of sailing, power boating and sea kayaking.  The fun starts at 12:00 Noon and runs until 6:00 p.m. Cost is $2.00 for pizza & pop, and each family is asked to bring a snack or dessert to share with the crowd.  Attendees should also bring a swim suit, beach towel, sunglasses, hat, and a small cooler with water/beverages for the afternoon. 
This special event has been approved by the Boy Scouts of America National as an official Sea Scout Centennial Event. Participants will be able to purchase Centennial pins, patches, burgees, flags, and the now popular Super Rope Cinch device, that ties and unties rope without tying knots. A device that fits perfect with the Sea Scouts missions.
Please note, all parties must reserve a spot in advance to participate in the afternoon of fun. Families and boaters interested in registering for the event should contact Sea Scout Ship 514 by visiting their website at this link: http://www.ship504.com/2012-calendar.html
The Sea Scouts will be selling the Super Rope Cinch rope-securing devices to help raise money for future trips and events. The Super Rope Cinch is a popular device often sold by the Sea Scouts and Boy Scouts of America due to it's unique ability to secure and un-secure ropes without having to tie a knot, and was recently approved by Walmart stores for national distribution. The knot-tying device will be sold by Sea Scouts Ship 504 at an estimated $5 each. The Super Rope Cinch is manufactured in the USA, a selling point that all Sea Scouts and Boy Scouts of America believe helps sales. Super Rope Cinch supplies are very limited at this special event.