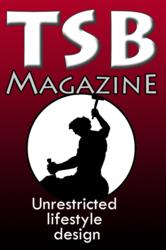 Hoboken, NJ (PRWEB) September 19, 2012
TSB Magazine, a web site focused on dating advice and general men's interest stories, has recently revamped its design and increased the scope of its articles. One example of the site's newer offerings is the Self-Made Man series, a column that is published weekly in TSB's Alpha Living department. TSB has been offering self-confidence advice since it was launched seven years ago. These articles are a new twist on this theme. In the column, men who were able to achieve success through hard work and self-reliance are held up as examples of how to become a successful "self-made man." Each example is profiled in depth, with the focus mainly on how they were able to achieve success.
All the Self-Made Man columns are penned by Dave Kiefaber, a Baltimore-based writer who also contributes to the popular Adweek blog AdFreak.
Most of the columns focus on celebrities, though not all the profiles are of current people who are in the headlines or on the front page of TMZ. For example, recent columns have profiled businessman and 1990s presidential candidate Ross Perot, comedic writer and filmmaker Kevin Smith, UFC founder Dana White, and punk icon Johnny Rotten.
The columns generally begin by explaining the success that each "self-made man" has enjoyed, and then focusing on how they achieved their success. Kiefaber seems fond of detailing his self-made men's early jobs and struggles. The columns often focus on these unheralded efforts, only mentioning the achievement of success at the end of the article. He often spends a paragraph or more talking about what it takes to be a "self-made man," praising the work ethic of people like filmmaker Kevin Smith by saying: "he's one of the few directors who spends time in the editing room, cutting shots and generally 'making the sausage,' to use an industry term for unappealing grunt work."
The Self-Made Man columns appear in the Alpha Living section of TSB Magazine. A similar Alpha Living column, also penned by Kiefaber, called Awesome Men Throughout History, profiles past men who enjoyed success in their industry and rose from anonymity to gain success in their chosen industry. These articles focus on more-obscure talents, such as voice-over artist Gary Owens of Laugh-in fame. The Alpa Living section also includes travel advice for US cities, exercise and fitness information, and financial advice.
TSB has also streamlined its other sections. It now features a Dating department and sections about College Life, Women, Inner Game, and Fashion. The most-read section, Dating, has articles that feature advice about dating, flirting, picking-up women, and sex. College Life focuses on navigating the academic and social aspects of attending a university, while the Inner Game section features articles that are designed to teach confidence-building.
Learn more at: http://www.tsbmag.com