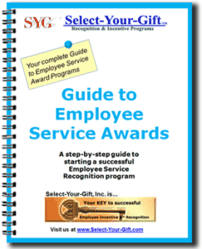 Oak Brook, IL (PRWEB) September 19, 2012
When planning a new Employee Service Recognition Program, Select-Your-Gift found that many organizations didn't know where to begin, and expressed the need for a simple guide covering the entire topic.
This complete guide provides the tools and information needed to plan, define, and get internal support for an effective Service Award Program using the best practices in use today.
Starting with a brief history of Service Awards, this guide explains the value and benefits of Employee Service Recognition Programs. Based on Select-Your-Gift's extensive experience with clients across the country, the guide describes current trends and best practices in service recognition in our changing workforce.
Additional topics include: which milestones to recognize, awards that work best, setting your budget, and how to present awards to employees. It even covers the sensitive but important topic of whether you should Catch-Up recently missed milestones when starting your program.
This is a great resource to have when starting a new Service Awards Program, updating an existing program, or just to learn more about this important recognition program.