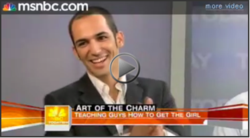 Hoboken, NJ (PRWEB) September 24, 2012
Dating advice guru Joshua Pellicer has recently release a brand new course entitled "What to Say." This course comes on the heels of two others, including the popular-but-somewhat-controversial How to Date Multiple Women program and a course called Tao of Badass, which enjoyed great success and earned Pellicer the label of dating and lifestyle design guru.
What to Say focuses on teaching what Pellicer says are the right lines for any given social situation where a man is trying to start a conversation and build attraction with a woman. During the course of the program, Pellicer offers lines for a variety of situations, explaining why the lines work in some instances but not in others. The course includes plenty of advice about when to say what and how exactly to say it to girls. In some cases Pellicer urges readers to consider using the lines that he suggests word-for-word. The course also includes explanations about why certain lines are recommended in certain situations and why they would not hypothetically work in other situations.
During the course, Pellicer illustrates 23 common pick-up scenarios, from approaching a woman in a club or bar to starting a conversation in a library, grocery store, or on the street. He explores each scenario in depth and explains that a women will respond differently depending on the time of day and the situation. According to Pellicer, to ensure a high level of success, a man has to gauge what "mode" the woman he is approaching is currently operating under. This strategy is based on the assumption that women operate under different mindsets depending on the time of day and the situation. Pellicer explains this phenomenon by using terms like "daytime brain" and "nighttime brain."
The What to Say program is strongly focused on lines that can be used in a given situation, but Pellicer also touches on other aspects of approaching women. He discusses how fashion and body language can affect the way a women sees a man who has just approached her. According to Pellicer, the combination of having the right lines, dressing the right way, and carrying yourself with a certain posture can all add up to a very attractive aura of confidence that will spark the interest of any women that a man chooses to approach.
This course comes with some extras, such as a worksheet entitled Going on Dates and a membership in Pellicer's The Movement site, through which he offers a number of advanced training and technique guides covering subjects like texting women, turning conversations in a sexual direction, and rekindling the attraction with an ex-girlfriend.
Pellicer's What to Say course is available here.