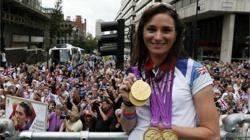 It's about making sure I explore new challenges. And the road offers more new challenges than anywhere at the moment.
(PRWEB) September 14, 2012
Four-time London 2012 gold medal-winning cyclist Sarah Storey will turn her attentions to road racing for the coming year.
Storey became Britain's second most decorated female Paralympian, increasing her haul to 22 medals in swimming and cycling, 11 of them gold, as she dominated events in the velodrome and on the road in London.
And the 34-year-old believes the lucrative road cycling tours in Europe offer her excellent opportunities to test herself against the world's best.
"It's about making sure I explore new challenges," Storey told C4Paralympics. "And the road offers more new challenges than anywhere at the moment."
Storey rides for the professional Escentual for VioRed women's race team and, in the build-up to the Paralympics, she took part in the Tour de Limousin, which also featured Olympic road race champion Marianne Vos.
"My road team has set up a great programme for me this year," added Storey, who won the C4-5 Paralympic road race and C5 time trial at Brands Hatch.
"They are looking to build their future as a road racing team. There's a whole pro-tour for women to go and attack and plenty of races every week.
"I rode the Tour de Limousin before the Paralympics and that was effectively the women's Tour de France."
Despite plans to crack the women's tour, Storey hasn't ruled out the possibility of competing in both the Olympics and Paralympics in Rio, having narrowly failed to make the Olympic pursuit team that won gold in London.
And she believes that competing in more road races will allow her to sustain her success in the velodrome through to 2016.
"The time between the two Games can be centred around the road but I can still do very good times on the track," Storey added.
"My track speed is useful in road races and the fact that I have got this top end speed really helps me on [road] courses.
"I've done so much on the track and I can continue to improve on that by using the road in the way [Olympic gold medallist] Geraint Thomas has, for example. Huge success on the road, and then huge success on the track.
"I'm not going to turn my back on the track, I'll want to defend my [Para-cycling ] world title, I've never missed a track competition, even with a broken collarbone I rode on the track."
After a stellar Paralympics and a starring role in the Heroes' Parade, Storey's immediate plan is to take a holiday with husband Barney in St Lucia - before getting back on her bike.