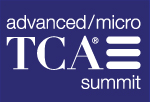 AdvancedTCA Summit is the only conference dedicated entirely to this emerging standard platform for telecommunications, high-performance system networking, and advanced control plane architectures
Santa Clara, CA (PRWEB) September 15, 2012
The eighth annual AdvancedTCA Summit 2012, September 18-19 at Silicon Valley's Santa Clara Marriott – the premier event for modular, open, high-performance systems and networks – will include a free all-day seminar on OpenFlow and Software Defined Networking (SDN). It will feature speakers from SDN innovators Verizon, IBM, Spirent, Big Switch Networks, Dell, Lyatiss, Internet Research Group, Netronome, and Cisco.
AdvancedTCA Summit's OpenFlow/SDN seminar on Tuesday, September 18 will cover the latest OpenFlow and SDN developments and will include a keynote by Dr. Stuart Elby, Vice President and Chief Technologist of Verizon Digital Media Services (VDMS). Dr. Elby will share Verizon's perspective on how SDN will help carriers survive in a difficult and highly competitive environment. He will assert that OpenFlow and other software-based system networking and advanced control plane architectures are key enablers in creating service-aware networks that can be reconfigured dynamically to meet changing service requirements and traffic patterns. Dr. Elby will discuss how new services will be introduced more quickly and at lower cost. He will also explain how suppliers can help by providing OpenFlow enabled equipment that carriers can put into service rapidly without wholesale change-out of their infrastructure and with minimal disruption to current customers.
The OpenFlow seminar will consist of:

Introduction to OpenFlow and SDN presented by the Internet Research Group and Netronome.
OpenFlow system networking and applications systems featuring IBM, Cisco, and Lyatiss.
SDN trends and OpenFlow Innovation by Spirent Communications, Big Switch Networks and Dell.
The Future of Software Defined Networking with presenters from Cisco, Big Switch Networks, Lyatiss and Dell.
Registration for AdvancedTCA Summit 2012 is now open. Complimentary "early bird" exhibit and OpenFlow seminar registration closes soon.
About AdvancedTCA Summit
AdvancedTCA Summit is the only conference dedicated entirely to this emerging standard platform for telecommunications, high-performance system networking, and advanced control plane architectures. The conference includes keynotes speakers, exhibitors and sponsors from IBM, Cisco, Juniper, Google, Verizon, NEC, NTT, Deutsche Telekom, VMware, HP, Dell, and Cisco. This premier Silicon Valley business and technical venue encompasses tutorials, workshops, roundtables, paper and panel sessions, keynotes, and exhibits. Subjects include hardware, software, infrastructure, design and development methods, applications, standards, interfaces, and market research. It also covers related standards such as AdvancedMC and MicroTCA. It is produced in cooperation with such organizations as PICMG and SCOPE (network equipment providers). For more information, visit http://www.advancedtcasummit.com.
About Conference ConCepts, Inc.
Founded in 1994, Conference ConCepts is a full-service professional conference and association management company that provides extensive capabilities in all aspects of technical conference management. Conference ConCepts develops and produces events both on its own, and in partnership with associations, corporations, and publishers. The skill sets of the company's employees and contractors, representing over 200 cumulative years of experience, enables Conference ConCepts to offer clients a choice of services, ranging from assistance with a single aspect of a conference to the complete development and administration of a full-fledged "turnkey" event. For more information about Conference ConCepts, visit: http://www.conferenceconcepts.com