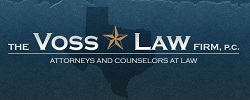 The Woodlands, TX (PRWEB) September 14, 2012
Attorney Bill Voss is a lawyer with The Voss Law Firm, PC and is dedicated to serving people in need of legal assistance in The Woodlands, TX and the surrounding areas. On September 10th, 2012 Mr. Voss received a "superb" 10/10 Avvo rating. Avvo ratings are designed to evaluate an attorney's background and experience. Mr. Voss has practiced law for eight years and has experience in a variety of legal fields. He currently focuses his legal efforts on settling disputes in the oil and gas industry. He also has experience helping personal injury victims obtain compensation for their suffering and is familiar with insurance litigation, too.
Avvo ratings are especially helpful because they provide an unbiased rating of the attorney. Ratings are calculated mathematically; everyone is rated using the same standard. Additionally, Avvo does not tolerate or promote favoritism. Attorneys cannot pay money to change their ratings. Avvo ratings are calculated with input from hundreds of lawyers, legal experts and a multitude of consumers. This means that it is developed by legal experts to help non-experts. Although Avvo ratings are not the only way that clients choose lawyers, they can help provide an accurate reflection of the attorney's work ethic, professionalism and legal experience.
As an attorney, Mr. Voss has achieved the highest possible Avvo rating. He is no stranger to recognition, though. In the past, he has been recognized by the Houston Press, Newsweek and Super Lawyers™. With a reputation for legal excellence, he is ready to help clients settle any legal issue related to the oil and gas industry. The Voss Law Firm has helped clients with contract breaches, drill stem testing fraud, drilling agreements, injuries, fracking, gas field accidents, and hazardous waste matters. Additionally, The Voss Law Firm is familiar with water truck accidents, well site injuries and royalty disputes.
Mr. Voss is a ninth-generation Texan who worked in the oil and gas industry for more than a decade. He is passionate about the law and helping people settle disputes related to the oil and gas industry. With experience in both vocations, he is more than qualified to use his past experience to the advantage of his clients today, helping people with any legal matter related to oil and gas drilling. He has achieved success in trial, and is always willing to work hard to help his clients get the favorable case outcomes they need. To learn more about Mr. Voss and The Voss Law Firm, visit the firm's website at http://www.OilandGasDisputes.com.