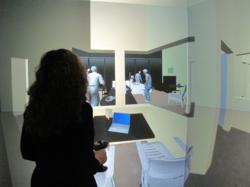 San Diego, Calif. (PRWEB) September 17, 2012
NewSchool of Architecture and Design (NSAD) instructors involved in exploring links between neuroscience research and architecture will be speaking at the Academy of Neuroscience for Architecture (ANFA) annual conference Sept. 20–22 in La Jolla, Calif. NSAD speakers include Dr. Eve Edelstein, who has been instrumental in developing neuroscience and architecture courses at NSAD, as well as NSAD Dean Emeritus Gilbert D. Cooke, and sustainable design lecturer and NSAD Advisory Board member Alison Whitelaw, who are both founding members of ANFA.
NSAD's participation as one of the conference sponsors reflects the school's ongoing involvement in architecture and neuroscience research topics that incorporate evidence-based design and immersive 3D virtual reality CAVE modeling. Dr. Edelstein, EDAC, Assoc. AIA, F-AAA, has played a key role in developing and teaching these topics at NSAD since the first course on neuroscience and architecture at NSAD was introduced by John Eberhard, FAIA, the founding president of ANFA.
The ANFA conference will take place at the Salk Institute of Biological Studies and the agenda includes presentations by national and international researchers. Dr. Edelstein, who is also president of Innovative Design Science and a research specialist at Calit2, University of California, San Diego (UCSD), will be speaking on several conference panels that will focus on the design of healthcare facilities, including how the design of acoustics and lighting can improve health outcomes and reduce medical errors. Dr. Edelstein and others will also discuss how the 3D immersive Virtual Reality CAVE at Calit2, UCSD was used to develop design solutions to help nurses better monitor patients and reduce medication errors.
Cooke, FAIA, will speak about the integration of neuroscience and architecture in academia. He is currently also serving as a visiting scholar at UCSD to assist in development of transdisciplinary courses that intersect architecture and neuroscience. Whitelaw, who is ANFA's current president and senior principal of the firm Platt/Whitelaw Architects, will also be speaking. Whitelaw, FAIA, and Cooke were instrumental in bringing ANFA to its initial location at NSAD and supporting the growth of innovative related curricula that inform design with rigorous biomedical research.
With leadership from NSAD and the AIA, the Academy of Neuroscience for Architecture collaborates with UCSD, researchers at the Salk Institute of Biological Studies and researchers across the nation to promote and advance knowledge that links neuroscience research to a growing understanding of human responses to the built environment. ANFA is considered the first such institution in the world to link neuroscience with architecture. For additional information on ANFA, the conference agenda and to register, please visit http://www.anfarch.org.
About NewSchool of Architecture and Design
NewSchool of Architecture and Design (NSAD), founded in 1980, is located in San Diego, California. NSAD is accredited by the Accrediting Council for Independent Colleges and Schools (ACICS). ACICS is listed as a nationally recognized accrediting agency by the U.S. Department of Education and the Council for Higher Education Accreditation. NSAD's Bachelor of Architecture, Master of Architecture and Executive Master of Architecture programs are accredited by the National Architectural Accrediting Board (NAAB). NSAD also offers a pre-professional Bachelor of Arts in Architecture, a Bachelor of Science in Digital Media Arts, a Bachelor of Science in Construction Management, a Master of Construction Management and a Master of Science in Architecture. NSAD was ranked among the top 10 undergraduate architecture schools in the western United States, according to the DesignIntelligence report "America's Best Architecture & Design Schools 2012." For more information, visit http://www.NewSchoolArch.edu.