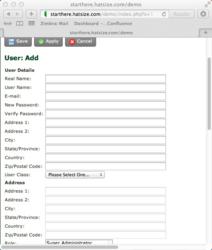 "With the release of Hatsize 3.14, Hatsize is helping customers increase the automation, integration and scalability of their virtual labs," said Guy Hummel, Hatsize CEO. "This enables Hatsize clients to take their solutions to a new level of efficiency."
Calgary, Alberta (PRWEB) September 20, 2012
Hatsize, the leading cloud automation software provider for hands-on training and demos, today announced the general availability of its flagship product, Hatsize 3.14. Designed in collaboration with leading customers' input, Hatsize 3.14 provides a Web Service API which can be used to automate user setup and integrate with any internal business process.
Many Hatsize clients are already adopting the new Web Service API. For example, it is already being used by current customers to efficiently add thousands of users to their portal and ensure all users are assigned to appropriate groups. Other Hatsize clients are planning to use the Web Service API to seamlessly synchronize training schedules with their internal systems. There are many benefits to this new Web Service API, including increased efficiency, decreased administrative overhead and the ability to create a more scalable operation overall by automating manual user management and integration tasks.
In addition, Hatsize 3.14 includes advanced cloud-automated training capabilities, such as the ability to schedule multi-session classes in virtual environments, internationalization support through UTF-8, as well as many other features that enable companies to automate and deliver both software and hardware product training and demos to anyone, anytime, anywhere in the world as a hosted cloud service.
"With the release of Hatsize 3.14, Hatsize is helping customers increase the automation, integration and scalability of their virtual labs," said Guy Hummel, Hatsize CEO. "This enables Hatsize clients to take their solutions to a new level of efficiency."
New and extended features in Hatsize 3.14 include the following:

Web Service API enables easier platform integration. Clients use our new Web service API to automate user management and integrate to their internal business processes/software such as their corporate learning management system.
UTF-8 Support enables information in non-Latin character sets, such as Japanese, Chinese, and Arabic to be entered in text fields.
Enhanced User Profiles supports additional information such as user's address.
Schedule Multi-Session Classes in Virtual Environments including the ability to alternate different classes throughout the week on the same servers while maintaining each student's state. This reduces hardware costs by running more classes on the same hardware.
User Registration Custom Fields enables administrators to add new custom fields to user registration and profile (via simple request to Hatsize).
Telnet / SSH Client Improvements including the ability to customize the fonts, colors, and buffer size in your telnet or SSH terminal window.
Find out more about the Hatsize product and Hatsize solutions for sales, channels and training.
About Hatsize
Hatsize is a leading cloud automation software company that has provided over 2 million hours of cloud-based training and demo sessions for the world's most successful technology companies, including IBM, Juniper and Symantec.