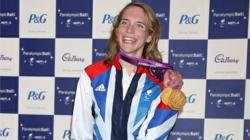 I first met her in Athens when she was just a teenager and have followed her career from being very good to exceptional. I guess I'm still quite protective towards her
(PRWEB) September 15, 2012
C4Paralympics presenter Clare Balding was among the Britons captivated by the phenomenal achievements of dressage rider Sophie Christiansen at Greenwich Park during the Paralympics.
The 26-year-old won three golds in the individual, freestyle and team events in the 1a class, taking her total career Paralympic titles to five, following the two she collected in Beijing four years ago.
Clare was fortunate enough to see Sophie win her first medal at Greenwich Park...
She turned to me and said in her own unique turn of phrase: "Did you happen to see my dressage test?"
She asked me what I thought and my response was: "It was beautiful".
To win three gold medals as well as set new records with her displays was absolutely phenomenal, but I wouldn't have said no-one expected her to have done what she did in London.
The timing was right for her. She had the experience of two Paralympic Games and, by the time you get to your third one, you know how to deal with everything that goes around the competition, which means you can concentrate on your own individual performance.
Sophie's not egotistical or a difficult individual, she loves performing and is very good at it.
She has a fantastic rapport with her horse, who she calls 'Rio' as his official name is Janeiro 6. She's the future of a very strong equestrian team and I hope she'll be around with Rio in Rio.
Her performance music for her freestyle gold summed up the personality and character of Sophie, and the confidence she has gained through Paralympic Games and riding.
I first met her in Athens when she was just a teenager and have followed her career from being very good to exceptional. I guess I'm still quite protective towards her.
As well as Sophie, Natasha Baker was the other stand-out rider in the GB team.
Everyone expected Lee Pearson to dominate as he has done in the past three Games. He's still done jolly well - winning gold, silver and bronze - but this horse is not quite what 'Gus' (the horse with whom he won three golds in Athens 2004) was.
He's done as well as he could have done on Gentleman, a horse that wasn't helping him all the time. However, Lee's been around long enough to know you're either the star of the show or just part of the show.
He has been a very good part of the show which has been dominated by Sophie and Natasha. Each member of that team will have to fight for their places on that team for Rio.
We had five world-class riders left sitting at home because Britain have such a strong para-equestrian team. And we saw in London that other countries are now catching us up.