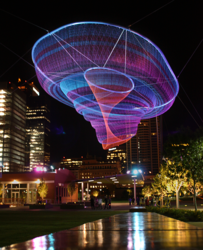 Brookline, MA (PRWEB) September 26, 2012
Brookline, MA, September 26, 2012 - Studio Echelman today announced that Janet Echleman will deliver the keynote at "Hands On," an international conference in Norway addressing how new technology influences contemporary textile art and design. The conference runs from September 27th - 28th in Førde, Norway and is arranged by Bergen Academy of Art and Design (KHiB) in collaboration with Sogn and Fjordane Museum of Fine Arts (SFKM).
Echelman, the only American artist, will discuss her soaring, building-scale textile sculptures that fuse with forces of nature: wind, water and light. Echelman will discuss how she taps the potential of unlikely materials and craft methods - from knotted fishing nets to curtains of atomized water particles - to create dynamic, accessible art environments in cities worldwide. In addition, Echelman will discuss her use of both traditional craft and modern technology to create her intricately woven net sculptures.
The conference takes place in the newly constructed Sogn and Fjordane Art Museum designed by C. F. Møller Architects in Copenhagen and is in conjunction with the Tech-Stiles exhibition. The conference merges art with technology and design, inviting international and national experts within their fields to contribute to the two-day event.
"How to engage contemporary life in cities around the world is the focus of my discussion with this international group of distinguished artists and textile designers," said Echelman. "I look forward to addressing the relationship between new technologies and art, and how we can merge the two to create dynamic, engaging artwork."
The conference will host three keynote presentations which will inform conversation and debate around how new technologies influence contemporary art. The two accompanying speakers include Mette Ramsgaard Thomsen, Professor and head of the Center for Information Technology and Architecture at the Royal Danish Academy of Fine Arts, and the Swedish artist Petter Hellsing. Thomsen will explore how computational logics can lead to new spatial concepts and Hellsing will address his use of both craft and digital media to comment on urban and rural society.
Janet Echelman was recently announced as an Architectural Digest 2012 Innovator, selected as one of eight global design leaders "challenging received wisdom and conjuring a bold new world." Echelman's 2011 TED talk "Taking Imagination Seriously" has been translated into 33 languages and is estimated to have been viewed by more than a million people. Sculpture Magazine calls her work "a bold new direction for sculpture" and her award-winning artwork Her Secret is Patience, which spans two city blocks in downtown Phoenix, has been credited with creating a sense of place that fosters urban identity and revitalization.
Follow Studio Echelman Facebook: https://www.facebook.com/studioechelman
For additional information regarding Studio Echelman's sculpture, contact Melissa Henry, melissa(at)echelman(dot)com.
Studio Echelman
Studio Echelman explores the cutting edge of sculpture, public art, and urban transformation.
###