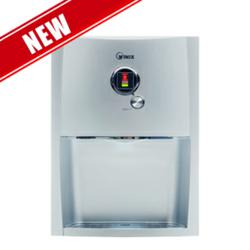 (PRWEB UK) 15 September 2012
Rising heat in summers has been taking the toll of people, especially those travelling frequently. The most needed appliance in these hot and humid summers is a Desktop Water Cooler. Even to purchase this water cooler, people worry about the gruelling heat they will have to bear while going to the store. In order to save people all these troubles, CNM Online recently announced the introduction of wide range of desktop water coolers in diverse designs, styles, and budget. The consumption of water increases in the summer as the body loses water in the form of sweat. This mandates drinking more water to return the lost quantity. Many people avoid drinking water, as they do not like the warm water. To save them from this ordeal, there is nothing better than the idea of installing a desktop water cooler.
A Desktop Water Cooler is a portable and can fit to any flat platform easily. These coolers offer much desired cold water in the summer season without interruption. Ideal for homes, these desktop water coolers are increasingly being installed by commercial offices. When purchasing a refrigerator just for cold water, does not seem a viable option due to limited space and budget, then these coolers are the perfect companion. At home, summers make it impossible for people and kids to fill the water pitchers in the refrigerator time and again. Moreover, refrigerator takes its own sweet time to deliver cold water, sometimes more than an hour, especially in summer. Desktop Water coolers do not require extra efforts to get a chilled glass of water. Unlike refrigerators, they deliver desired cold water in minutes. While Standard Water Coolers consume a better part of empty space at homes or offices, these desktop coolers save the space for better use.
A Desktop Water Cooler is light in weight. It is easy to carry them to weekend homes during summer vacations. These coolers do not look repulsive like the traditional bulky plumber dispensers. Desktop Coolers fit on the kitchen counter easily without disturbing much of the counter space. Many coolers double up as heaters for the winter season. With dual options available, users just need to switch the desirable option.
Parents can guarantee safe and healthy drinking water to their kids, unlike the iced bottle waters available on street shops. Summer season can turn insensitive to kids with repeated cases of illness and diarrhoea. Water from the desktop water coolers is free of germs and harmful substances. Women can maintain their skin supple soft by drinking the right water.
Revealing more about the new range of desktop water coolers on the site, Senior Spokesperson at CNM Online says, "A Desktop Water Cooler can save time, money, and ensures good health. We have a wide range of appliances that are a huge hit in the market. We ensure a hassle-free and reliable shopping to people."
About CNM Online
CNM Online is a family run business founded in 2004. The site has more than 200,000 customers and believes in offering solutions rather than products. The largest supplier of heating products for home, CNM Online offers a range of efficient and affordable solutions.
For more information , visit http://www.cnmonline.co.uk/