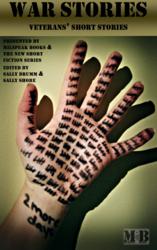 "If the words honor, nobility, self-sacrifice, and altruism mean anything to you, this is the book to buy."
--Stephen Page--
BA Insider: Capital Living in Buenos Aires
Los Angeles, CA (PRWEB) September 16, 2012
The New Short Fiction Series, Los Angeles' longest running spoken word series, in cooperation with MilSpeak Foundation and Barnes & Noble The Grove, will host the anthology launch of WAR STORIES, an eBook collection of stories about military life written by veterans and published by MilSpeak Books, at a special Veterans Day performance of new fiction by veterans Gentle Culpepper, Sally Drumm, Eric Forrester and Thomas Patchell. The event will be held Sunday, November 11, 2012 at The Federal Bar (thefederalbar.com).
The performance stars spoken word artist Sally Shore, with guest cast Kyle Jones (Law and Order), Joe McGovern (Private Practice) and Brian Norris (Longmire, Castle). The Federal Bar is located at 5303 Lankershim Blvd., North Hollywood 91601. Performances begin at 7:00 pm. Admission is $10.00-$12.00 with advance purchase, $15.00 cash only at the door. A full house is expected for this event. Advance purchase tickets recommended. For advance tickets and program information, call 877-4-FLY-TIX or visit The Federal Bar on the web at thefederalbar.com/event/154169/ .
WAR STORIES, the anthology, includes new fiction and previously published fiction written by veterans. WAR STORIES will be available for purchase at the MilSpeak Books storefront at smashwords.com/profile/view/milspeak and major eBook retailers.
The New Short Fiction Series is a member of the Pasadena Arts Council's EMERGE Fiscal Sponsorship Program (pasadenaartscouncil.org).
MilSpeak Foundation, Inc. (501c3), exists to raise awareness about creative works by military people to a more visible and influential position in American culture. MILSPEAK BOOKS, the nonprofit, independent publishing division of MilSpeak Foundation, publishes only creative works by military people. Visit milspeak.org
Barnes & Noble The Grove is located at 189 Grove Drive, Suite K 30, Los Angeles, CA 90036. Phone 323-525-0270 or visit Facebook at facebook.com/BNEventsGrove.