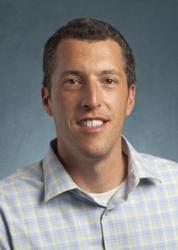 KANSAS CITY, Mo. (PRWEB) September 18, 2012
A seasoned educator has returned to Kansas City to lead the Ewing Marion Kauffman School. Paul Greenwood began his tenure as head of school on Sept. 4, joining founding principal Hannah Lofthus on the charter school's leadership team. Greenwood has spent his first weeks getting to know the school's staff, students, families, board and educational mission in the Kansas City community.
A native Kansas Citian and graduate of Pembroke Hill School, Greenwood received a Bachelor of Arts degree in history from the University of Michigan and earned a Master of Arts degree in educational administration from San Francisco State University. He has spent the bulk of his career as a teacher and administrator in California schools, most recently as director of the Creative Arts Charter School in San Francisco since July 2010.
Greenwood's previous education experience includes middle school director of The Pegasus School in Huntington Beach, Calif.; director of admissions/financial aid at Orinda Academy, Orinda, Calif.; and teacher at Drew School and teacher/middle school dean at The Freeman School, both in San Francisco. He began his education career as an English teacher and coordinator of international relations for the Japan Exchange and Teaching Program in Kure, Hiroshima, Japan.
Greenwood brings to the Kauffman School an extensive background in building community partnerships and leadership teams.
"There is a direct correlation between Paul's experience and the Kauffman School's mission to create college graduates," said Munro Richardson, vice president of the Kauffman Foundation, which manages the school. "His work in and out of the classroom has focused on cultivating inclusive, high-achieving multicultural learning communities, predominantly in urban environments."
Greenwood is eager to make a difference in his Kansas City hometown. "I have followed the Kauffman School since its founding, and I believe it embodies the values and ideals necessary for educational excellence," he said. "I am truly honored to join a school that is poised to be a leader and pioneer in Kansas City locally and the national education reform movement as well."
The Kauffman School opened in August 2011, welcoming its inaugural class of 100 fifth-graders in the Kansas City, Mo. school district. The school plans to add an additional class of fifth- graders each year until the school is complete from grades five through 12.
Late last month the Kauffman School reported that state test results from its initial year of operation indicate students should be on pace to reach the high achievement expectations set for them as they progress through middle school.
Scores from three key assessments administered at the end of the 2011-12 school year showed significant student academic growth. Full details on the Kauffman School test results are available here.
About the Ewing Marion Kauffman School
The Kauffman School is a rigorous college preparatory charter school in Kansas City, Missouri ultimately serving grades 5-12. The purpose of the school is to create college graduates. The Kauffman School is currently located at 4251 Bridger Road through the 2012-13 school year. It will move to a permanent campus located at 63rd Street and The Paseo in the 2013-14 school year. Learn more about the Kauffman School at http://www.kauffmanschool.org.