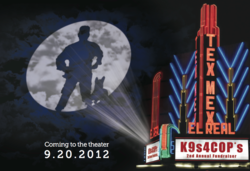 "K9s4COPs provides law enforcement with K9 officers that are trained and ready for action." -- Founder, Kristi Schiller
Houston, TX (PRWEB) September 17, 2012
WHAT: A red carpet evening of food, fun and film at the 2nd annual K9s4COPS fundraiser
WHEN: Thursday, September 20, 2012, 6 – 9pm
WHERE: El Real Tex Mex Cafe, 1201 Westheimer Road, Houston, TX 77006
WHO: Co-Chairs: K9s4COPs Founder Kristi Schiller and Board Member Judge Robert Eckels
In the front lines of keeping families and our communities safe, no team provides a more potent one-two punch than police officers partnered with K9s. Trained for specific tasks, these highly intelligent dogs apprehend criminals, catch fleeing fugitives, participate in search-and-rescue missions, sniff out illegal drugs, weapons, explosives and cash, find cause of fires and often save their partners' lives, sometimes at the cost of their own. With an average cost of $15,000, cities across America are having a difficult time funding the acquisition of these K9 officers due to budget constraints. That's when K9s4COPs steps in.
K9s4COPs, Inc., based in Houston, provides an answer to this crisis. As a 501(c)3 charitable, nonprofit organization, our primary mission is raise funds for law enforcement agencies across Texas and the United States urgently requiring K9s. K9s4COPs continues to be the only non-profit organization of its kind in the United States.
The funds raised go directly to purchase and place K9 officers with thoroughly screened law enforcement agencies. Founded in 2010, K9s4Cops has placed 23 K9s in Texas and across the US, and applications continue to pour in. In Harris County alone (Greater Houston area), the K9 officers are responsible for the seizure of narcotics valued at over $7.5 million, the capture of 34 criminal suspects and the confiscation of 13 firearms and $1,068,169.30 in cash.
Last year's inaugural fundraiser exceeded our goal and expectations and we have high hopes for this year's event as well.