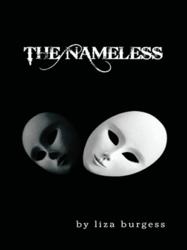 By not mentioning names, I wanted to leave readers to their own imaginations.
Javea, Spain (PRWEB) September 17, 2012
What kind of book doesn't have a single name in it? Furthermore, what kind of book doesn't have a location? Liza Burgess tells a captivating story of love, unrest and grief in her new book, "The Nameless." In the story, Burgess tells of a man who decides to pursue a new path in life, despite the pain it causes his family.
His choice has disastrous ramifications that result in a horrific scene in the book's first pages, which leaves readers to learn the preceding events. Burgess wrote the book to comment on the many pressures an individual faces in today's world.
"Society today pressures people to always search for something better," Burgess says. "We're programmed to think that the grass is always greener on the other side when in fact it's not."
Burgess decided to omit names and locations in order to give readers more imaginative freedom as they unravel the book's events. The idea that this story could happen to people from any background, in any place, is part of its appeal, Burgess says.
"By not mentioning names, I wanted to leave readers to their own imaginations," Burgess says. "I want them to put their own names and places to these characters in order to make the story their own."
For more information, visit Amazon, Barnes & Noble, AuthorHouse
"The Nameless"
By Liza Burgess
ISBN: 978-1-4678-9739-6
Softcover, retail price: $18.24
E-book price: $3.99
About the author
Liza Burgess grew up in Glasgow, where she followed an undergraduate course in business and administration at Strathclyde University. She is completely bilingual in French and English, and speaks Italian. After years working in management for an international telecommunications company in Switzerland, Burgess now lives a more relaxed life with her husband in Spain. In her free time she enjoys reading, writing and learning Spanish.