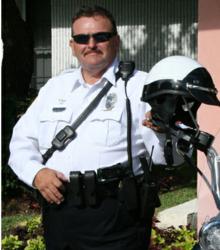 "Bruce was a big man with a ready smile and giant heart. He was truly one of life's 'givers.' We are thankful for all those who give back."
West Palm Beach, FL (PRWEB) September 14, 2012
As the family of Jupiter, Fl., motorcycle Officer Bruce St. Laurent mourns his death last Sunday while serving in President Barack Obama's motorcade, the community and nation have the opportunity to support this fallen officer through donations.
The Law Enforcement Assistance Foundation of Palm Beach County - LEAFPBC.org - is encouraging and accepting donations, 100 percent of which will go directly to the St. Laurent family. Officer St. Laurent left a widow, Brenda, three sons, one daughter, two brothers, one sister and seven grandchildren. He was beloved in the community for his volunteer work with Habitat for Humanity and Head Start.
"People may remember Bruce for his tragic death, but we know him not just as a fine officer, but as a selfless husband and father of four who is beloved for his work as a volunteer in the community," the family said in a statement. "Bruce was a big man with a ready smile and giant heart. He was truly one of life's 'givers.' We are thankful for all those who give back."
The memorial service for Officer St. Laurent at Christ Fellowship Church in Palm Beach Gardens is being followed Friday afternoon by a procession to Riverside Memorial Park in Tequesta.
Donations made through LEAFPBC.org will go directly to the foundation.